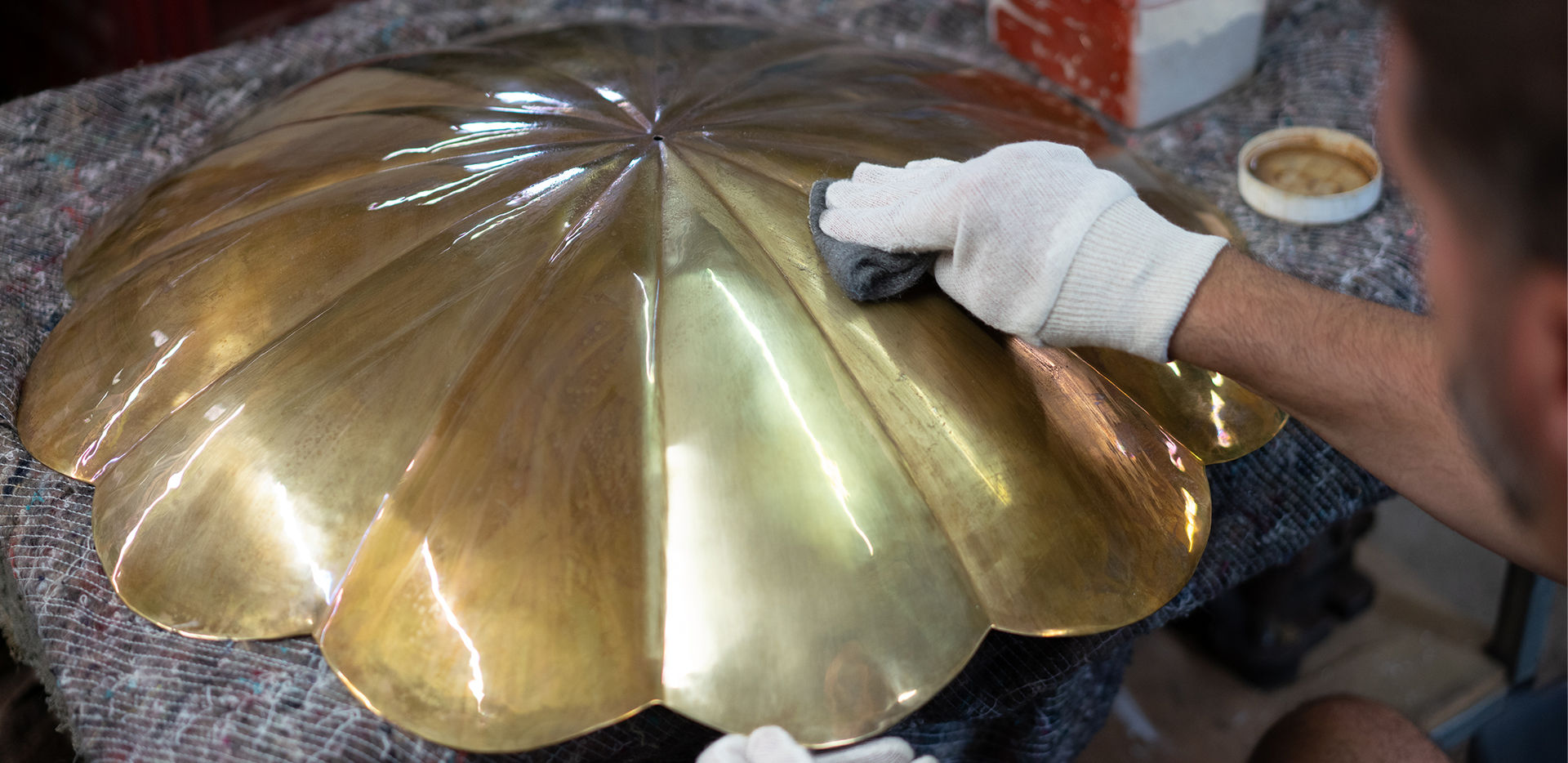 Care Notes

Wallpaper Hanging Instructions
Soane Britain wallpaper is printed and finished in Britain using traditional methods.
Our screen and rotary printed wallpapers are also suitable for light traffic areas and may be sponged but not washed. We do not recommend using an additional varnish or glaze over the top of our papers.
The hand made nature of our wallpapers can result in a colour variation between rolls. Please double check with your decorator to ensure that you have ordered enough wallpaper for your project. Because of this variation between batches, we also recommend that you add 1-2 rolls on to your order to allow for future repairs.
Unfortunately, we cannot accept returns of unused rolls.
Technical Information
All of our base papers are 150g in weight which is heavy weight paper.
Block printed Wallpapers
A water-based distemper is used for the ground which gives it the chalky appearance. The ground colour is applied by hand which gives the painted effect of the background and the block print is then applied by hand on a table 2.5 metres long. It is a white-based pigment to which concentrates are then added. The paper is dried from below and hung over a permanently moving festoon.
No solvents are used in the production of Soane's wallpapers.
Screen, Surface and Surflex Printed Wallpapers
We use uncoated paper and all inks are water based, the resins within the inks protect the surface and make the wallpaper 'spongeable' meaning that it is not always necessary to over-lacquer the finished paper.
All surface, surflex and flatbed printed wallpapers instructions follow the guidelines and symbols as set in the BS EN233 'Wallcoverings in Roll form'. This is the British and European standardisation document.
Whilst the paper has to perform as the symbols indicated, it is ultimately only paper and therefore some types of stain can not realistically be expected to be removeable and attempts to do so may cause damage to the paper if miss handled.
No solvents are used in the production of Soane's wallpapers.
Directions for Hanging
All of our wallpapers are pre-cut which means there is no selvedge. We recommend that you use a decorator experienced in hanging high quality hand printed papers. Where rolls are numbered, these should be hung in order. Walls must be sound, dry, clean and free from grease or any other contaminant that might affect the adhesive or penetrate the wall covering. We also recommend lining the walls.
All old wallpaper, backing and lining paper must be removed and any holes or cracks filled.
Powdery, flaky and/or absorbent surfaces must be scraped back and painted with a good quality primer sealer, following the manufacturer's instructions, and allowed to dry thoroughly.
Previously painted surfaces must be washed down, sanded with glass paper to create a key, and then painted with a good quality primer sealer as above.
Match the pattern at eye level and use a spirit level and plumb line or faint pencil line to ensure the wallpaper is vertical.
Apply paste evenly to the back of the paper, paying particular attention that the edges are fully pasted. It is best to apply vertically rather than horizontally to the paper.
Allow to soak for 5-10 minutes for the paper to become supple and fully expand. Take care not to crease the paper when folding. Do not over soak as the water content in paste can damage the paper fibre under even the slightest pressure. For this reason, do not paste more than one cut length at a time. To avoid any shrinkage, we advise that the walls are lightly sized, this means the drying process is a little slower.
Do not allow paste to contaminate the printed surface as the pattern may lift when wiped whilst wet. Excess paste on the surface of the wallpaper will distort the print and may lead to the illusion of banding between rolls. If paste does come into contact with the surface of the paper immediately remove it gently and carefully with a clean, damp sponge and adjust with cold water only. Do not use soap or other cleaners.
Whilst ensuring wallpaper is firmly stuck down, avoid rolling the seams too soon as this will squeeze paste out of the seam area and may cause seam shrinkage or ink smudging. Overworking the seams can burnish the matt appearance of the printed surface and should also be avoided. A felt steam roller, not a sponge, is recommended. Smoothing the wallpaper down with a smoothing brush is recommended so as not to damage the surface.
We do not recommend a specific wallpaper paste for use with our wallpapers although previous installers of Soane wallpaper have recommended Lap Cold Water Starch Paste or Solvite.
Paper Backed Fabric installation
While paper backed fabric walling is an alternative to wallpaper, the process of production and installation is very different. Therefore clients should only ever use a Soane recommended decorator for this service.
Customers need to be aware of the repeat and drop sizes prior to ordering meterage. This is not something that we calculate and you would most likely need the help of your contractor.
Synthetic fabrics and any fabrics with a strong horizontal repeat are not recommended for paper backing.
Please speak to a sales advisor if you have any questions.

Rattan
Soane's rattan furniture and lighting is made entirely by hand and using natural materials. In order to seal the colour and add a layer of protection against weather and damage we finish every piece with a protective layer of clear lacquer.
Although rattan was traditionally used for outdoor and veranda furniture in tropical climates all rattan furniture will absorb moisture and the woven elements will darken and wear if exposed to the elements. Direct sunlight will also affect the finish over time.
To prolong the life of your rattan furniture, we advise using it in a covered area even during clement weather and bringing it indoors when it is not being used. Avoid exposing your furniture to standing water, wet towels, liquid spillages or long periods of hot sunshine.

Metal Finishes
Our metal finishes, with the exception of Polished Nickel, Brushed Nickel and Polished Silver, are created by hand with a light application of wax to hold the finish. If the intention is to allow the surface to age naturally through oxidisation then no attention needs to be given. Finishes will age over time and can be gently polished with a non-abrasive cleaner and soft cloth to restore the original finish. The occasional use of a good quality, non-perfumed wax polish is also recommended.
Antique Brass must be wiped with a soft cloth only or the finish will rub back to polished brass.
Polished and Brushed Nickel and Polished Silver, which are our plated finishes, will also benefit from the occasional use of a chrome cleaner, followed by a wipe with a cloth impregnated with a light oil.
Please note that environmental conditions can have a dramatic effect on the stability of surface finishes. Industrial pollution, high humidity, sea air and acidic rain may well cause a finish to deteriorate prematurely.
Buffalo Leather

Soane Britain's Buffalo Leather is sourced from India and Nigeria, and is hand treated and dyed with natural colours by one of the last tanneries in the UK. Using an engraved plate, the buffalo leather is rolled by hand through a press, replicating the goatskin grain.
Imperfections will occur due to the leather being a natural product, making every buffalo hide unique, the colouration of each will vary as each hide reacts differently to the vegetable dye.
A treatment process is carried out to help protect against sunlight, water based spillages and general wear and tear.
However please be aware that if the leather is exposed to direct sunlight the colour and shine will fade.
To clean Buffalo Leather, we recommend nothing more than a soft cloth, slightly dampened if necessary using a circular motion with evenly applied pressure. If the shine and colour of the leather is starting to fade, we would recommend a good quality leather dressing or a leather hide care polish.

The Yacht Table – Special Lacquer Finish
The Yacht Table's special painted finish is one of the most durable lacquers available for wooden furniture, and will protect the wood from liquid penetration, hot cups etc. However, we strongly advise the use of mats and/or table-covers at all times, and the cleaning of spills as soon as they happen. Constant water contact will wear down the lacquer, causing it to become dull and have a mottled appearance.
Lacquered wood can be wiped down with a damp cloth if it gets dirty but it must be dried off thoroughly straight away. It can be dusted with a soft cloth and polished only when needed with an unscented spray furniture polish. We would not advise using a wax too often as this may affect the sheen level. Direct sunlight will affect the finish over a long period of time.
As with any polished furniture surface, repairs such as dents and scratches would have to be undertaken by a professional.