Patination
Patination is a significant process in the creation of all our metal designs and is carried out at Soane's own Leicester workshops. The component parts of all our lights are made in Britain either by casting or fabricating brass and bronze. These components are meticulously brazed and polished before the metal is ready to be patinated and assembled.

The technique requires our craftsmen to carefully apply oxidising elements to the lights to give them a beautiful finish or 'patina'. It requires great skill and patience and is crucial to ensuring that every piece has an immediate depth and atmosphere.
Soane's patination specialist, Andy, is particularly proud of the finishes he achieves. Andy began his career as a fabricator and joined Soane five years ago, having worked in the aerospace industry for 25 years. He explains that he comes to work to create. "It's a bit like being an artist really."

"You have to pay attention and you have to put your heart into it, otherwise it will show in the finished design. When the metal is changing colour, you have to be patient. You have to let it breathe. If you don't, you will need to re-polish it and start the whole process again."
The quick, cheap alternative to hand-patinating is to spray the metal with a coloured finish; the flat, lifeless result has none of the atmosphere or depth of traditionally patinated metal. Soane's process brings designs to life and great care is taken to achieve consistency of colour and warmth whilst treading a fine line between monotonous uniformity and beautiful individuality.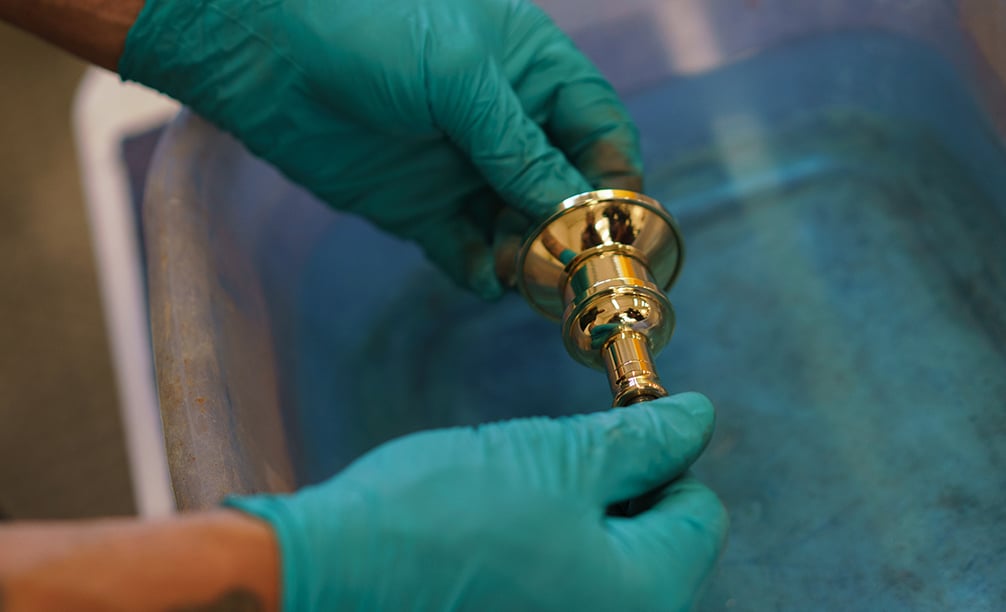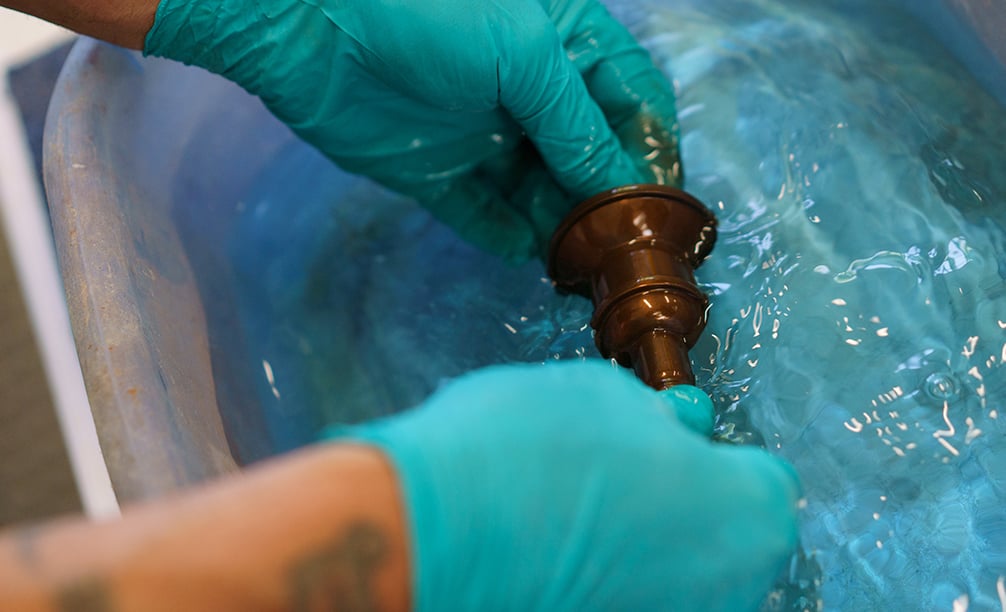 Although a pair of lights will never look identical, Andy explains that they will look related – "like members of the same family," – and so it's crucial that a pair of lights must be patinated by the same craftsperson to ensure consistency, as if by the same artist's hand.

Andy has been honing his patination skills by learning over time. For the past two and a half years alone, he has been refining our bronze patina. These skills are something that Andy enjoys teaching and sharing with trainees and visitors to the workshop alike. During the colour transformation process, he loves watching his onlookers' reactions: "It reminds me of children watching fireworks, it's brilliant!"
One of Andy's proudest moments was sharing these skills with His Majesty King Charles III, during his visit to our Leicestershire workshop in early 2020.   

The Soane in-house patination team now numbers 7, all based in our Leicester workshops.