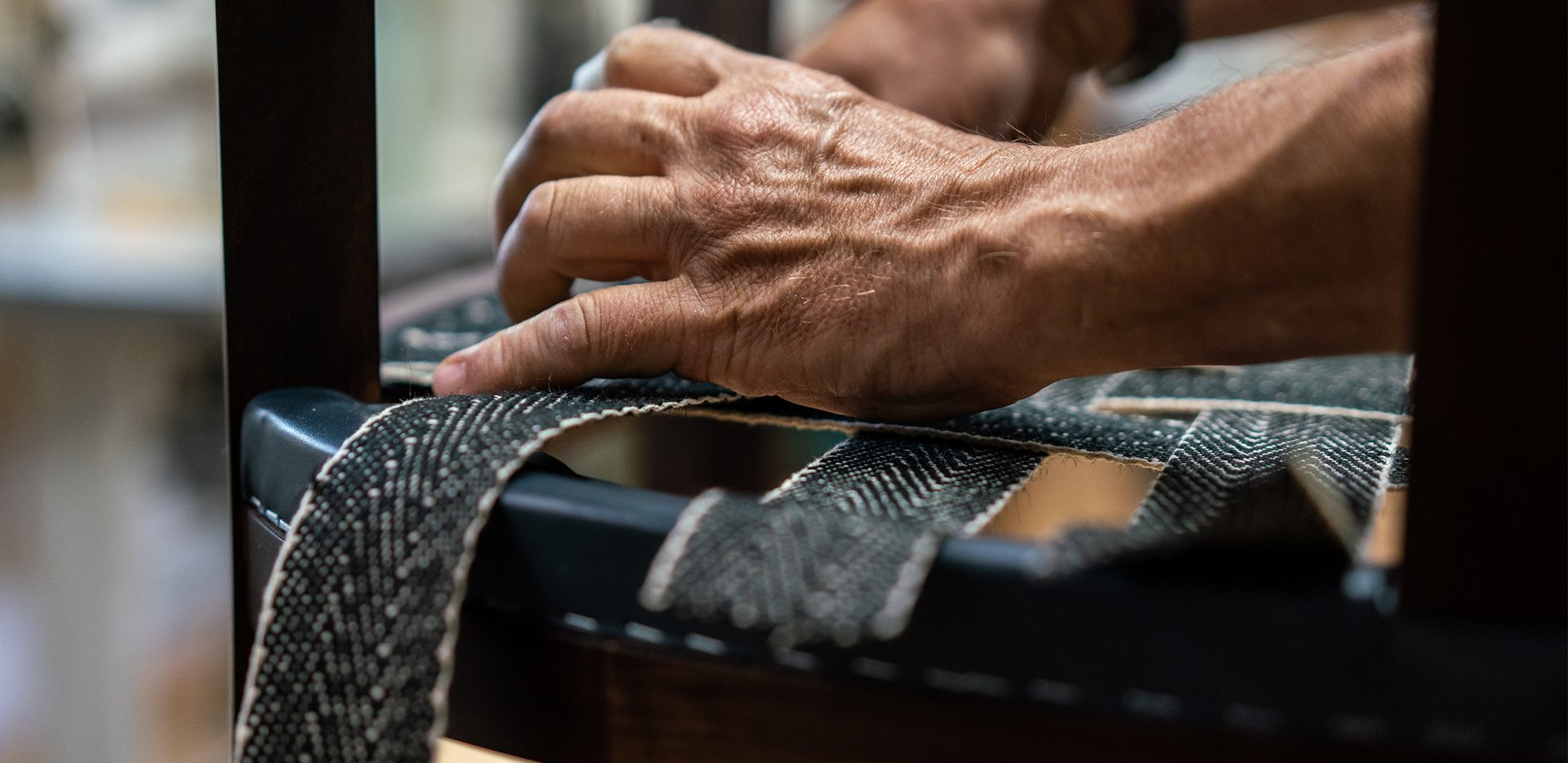 Upholsterers
Soane's upholstered chairs, sofas and stools are made by numerous specialists in Britain employing diverse materials to meet the varied aesthetic demands of each design. Pieces are upholstered in a Soane in-house fabric or leather, or using the client's own material.
Soane Simplified is a collection of designs developed and priced specifically for commercial projects. They are made in British workshops using modern upholstery techniques and materials, ensuring consistent quality and craftsmanship.
Natural Upholstery
For the past year, we have been working with industry experts to adapt our upholstery to ensure it is made from natural materials, free from potentially harmful fire retardant chemicals, and long lasting. We have scrutinised the origins of every upholstery material and component we use and modified our designs to maintain quality, durability and comfort.
Upholstery foam is widely used because it holds the shape of modern seating, but it is made from fossil fuels and is difficult to recycle, repair or re-use. The more we researched, the more we realised the pressing need to remove it from all our products. Working closely with specialist upholsterers across Britain, we developed a natural alternative to petrochemical foam that crucially still meets the UK's strict fire retardancy regulations.
We undertook lengthy experiments, driven by the need to maintain comfort and form while avoiding the negative impacts on human and environmental health associated with petrochemical foam. The resulting material layers natural latex (combining the milky sap from rubber trees with graphite, which is naturally fire retardant, and filling this with air for extra cushioning) and organic coconut coir (the hairy coconut husk) combined with additional natural latex. This sandwich effect creates just the right amount of structure before being wrapped in a layer of organic British wool, which is naturally breathable and offers sublimely soft padding.
Compared to petrochemical foam, which takes around 1,000 years to biodegrade and releases microplastics into the environment, our new upholstery is made from natural materials and is entirely free from fire retardant chemicals.
Traditional Upholstery
For over 20 years Soane has collaborated with a small workshop in Somerset that specialises in traditional upholstery, using materials such as horsehair, hemp and jute.
Frames of all sizes are delivered from Soane's chair makers ready to be hand-sprung, stitched and webbed, before the addition of either feather and down or horsehair cushions. But the upholsterer's expertise is called upon long before the frames reach their workshop. Guided carefully by the Soane design team and working in perfect unison with the chair maker, the upholsterer makes important tweaks to accommodate specific materials or exacting client requirements. This collaborative approach is key to ensuring each upholstered design is the best it can be, and becomes even more important for custom or bespoke designs.
Finishing options, unique to Soane, include old-school tramline banding made using the last banding machine in England, made pre 1900. Hand nailing is another traditional finishing technique and one that is done individually and entirely by hand, with every nail hole pre-drilled so as to protect the wood and ensure the finish is perfect.
The result is exceptionally made, supremely comfortable upholstery.
At Soane we are very lucky to work closely with some of the best upholsterers in the country and are incredibly proud to support these remarkable skills by sponsoring new apprentices, ensuring knowledge is preserved and passed down for future generations.