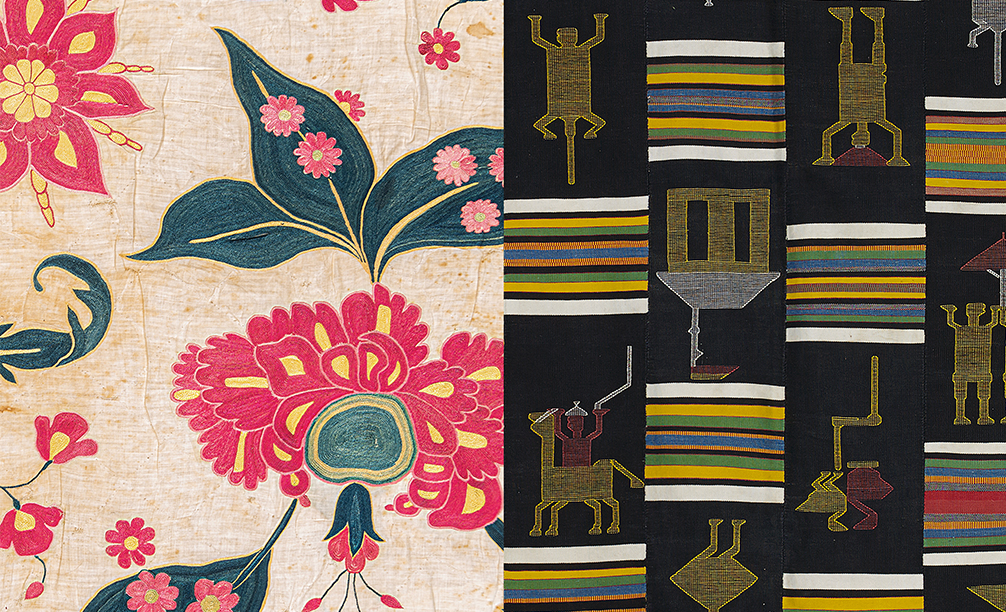 Soane Britain's new autumn designs draw on the world-renowned collection and expertise of Karun Thakar. As a way of thanking Thakar for his generosity in sharing his collection, Soane is helping establish The Karun Thakar Fund in collaboration with the V&A Museum. The Fund will take on its first students in the autumn of 2021 to coincide with the launch of the Karun Thakar for Soane Britain collection, and will provide assistance with academic research and support in developing the future of textile design.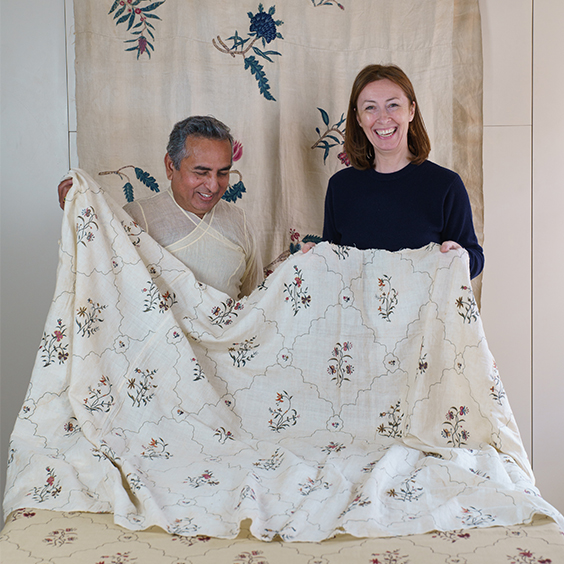 "I have been collecting antique textiles and costumes for more than thirty-five years," says Thakar. "I developed my passion for fabrics from a very early age, through helping my mother in her couture shop. My fascination with textiles stems from the fact that no other material is so close to our bodies, touching our skin, absorbing our body's imprints—acquiring a patina of intimacy and age from our movement and touch. On the other hand textiles are full of history and also present a mirror to global historical events. Studying and researching the field made me look at my collections with new eyes, questioning the conventional history in the light of post-colonial contexts and narratives. For example, very little historical writing exists about the women of 19th-century Asia and Africa, but fascinating glimpses into their lives are provided by their embroidery and weaving. I hope that by shining a light on lesser known textile cultures and historical traditions, new ideas will ignite fresh interest in the important role that textiles have to play in understanding the world.
My dear friend Lulu Lytle proposed this fund a number of years ago, as a way of recognising the importance of antique textiles in contemporary textile designs. Then, after the global pandemic of 2020 resulted in a huge increase in online international dialogue on this subject, I felt that this was the right time to launch the project.
A lot of the material I have collected has remained relatively unknown, even though changing tastes and increased understanding of the importance of cloth have seen seismic changes in the field of African and Asian textile and dress studies. There are still huge gaps with regard to researching weavings from West and North Africa, which provided the theme for my show at the Brunei gallery, SOAS, in October–December 2019. Costumes from Afghanistan are still an obscure area to most people; I collected dozens of these pieces during my travels to the region. For example, garments from working communities in Japan including bast-fibre weavings and Boro textiles are still not represented in public collections.
Through my travels I have spoken to many contemporary makers all over the world, including Ewe weavers in Ghana, embroiderers in Kashmir and rug-makers in Afghanistan. It is evident that some of them have no exposure to antique textiles or historical designs in their field of practice. I hope that we can change this through the scholarship—but not knowing how or in what manner this may happen is what excites me about the fund and the unknown paths it may open up.
In the early eighties I moved from Scotland to London. The V&A was the first museum I visited. It was wonderful for me to see so many Indian textiles on display, and it really inspired me to follow my passion. Over the past forty years I have had a very special relationship with the museum. I have seen some truly pioneering textile and costume shows within its walls. Some past and current curators have become very close friends, and I have been able to loan and donate a number of textiles in memory of my loved ones. As it is my neighbouring museum, I visit almost weekly to explore its vast holdings. I never thought of approaching any institution other than the V&A to host this fund; it is a real honour that they were able to take this exciting project forward. I hope to work closely with the V&A East, which is another fantastic development in the museum's long and evolving history.
To help with the selection of scholarship funds, we have formed a distinguished board with expertise in museum curatorship, education, publishing and the commercial sector of the textile world. We will additionally bring in specialists from academia, artists, and other practitioners in the field. Huge thanks to Soane Britain and other donors; without their generosity this fund would not be possible.
I am really excited to see what light we can shine through this fund. The board is looking at innovative ways to reach potential applicants who have new and radical approaches. The setting up of a fund is my modest contribution to bringing unheard voices to this field, supporting people in the field, while transferring my passion for fabric to new and younger generations."
 Read more about how to apply, the application process and selection criteria here.