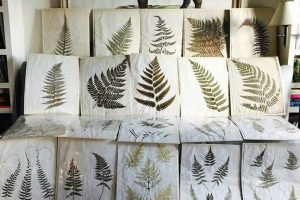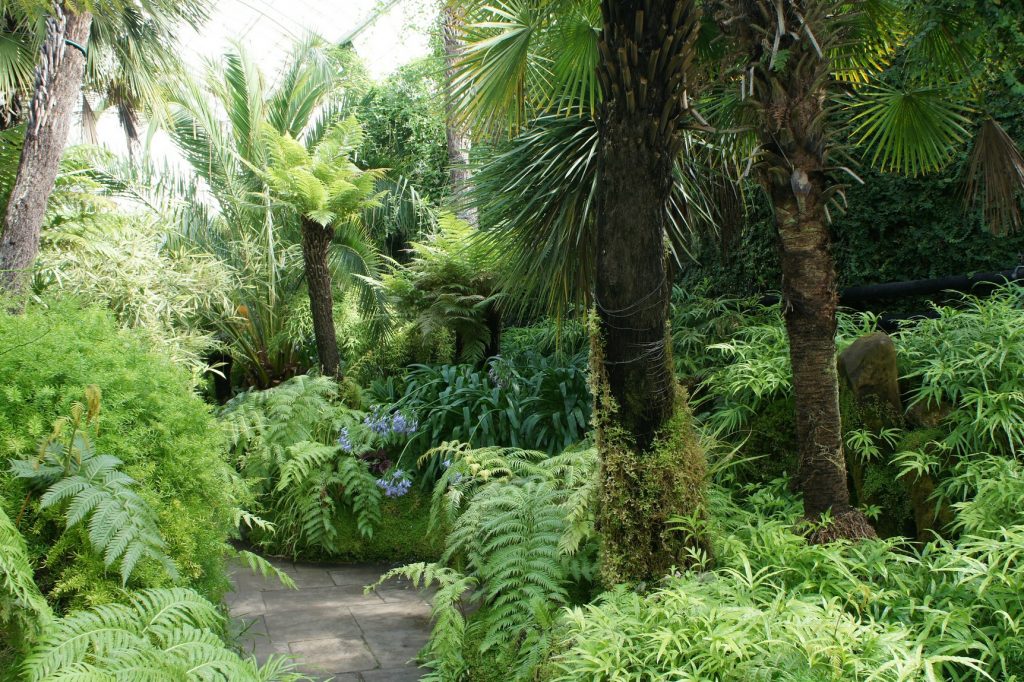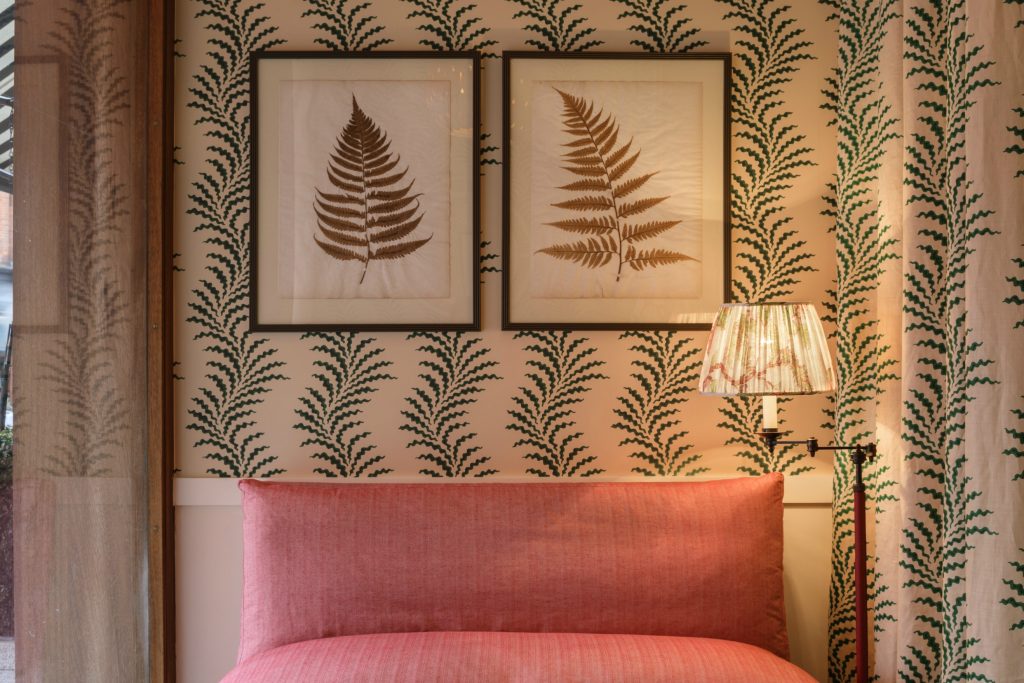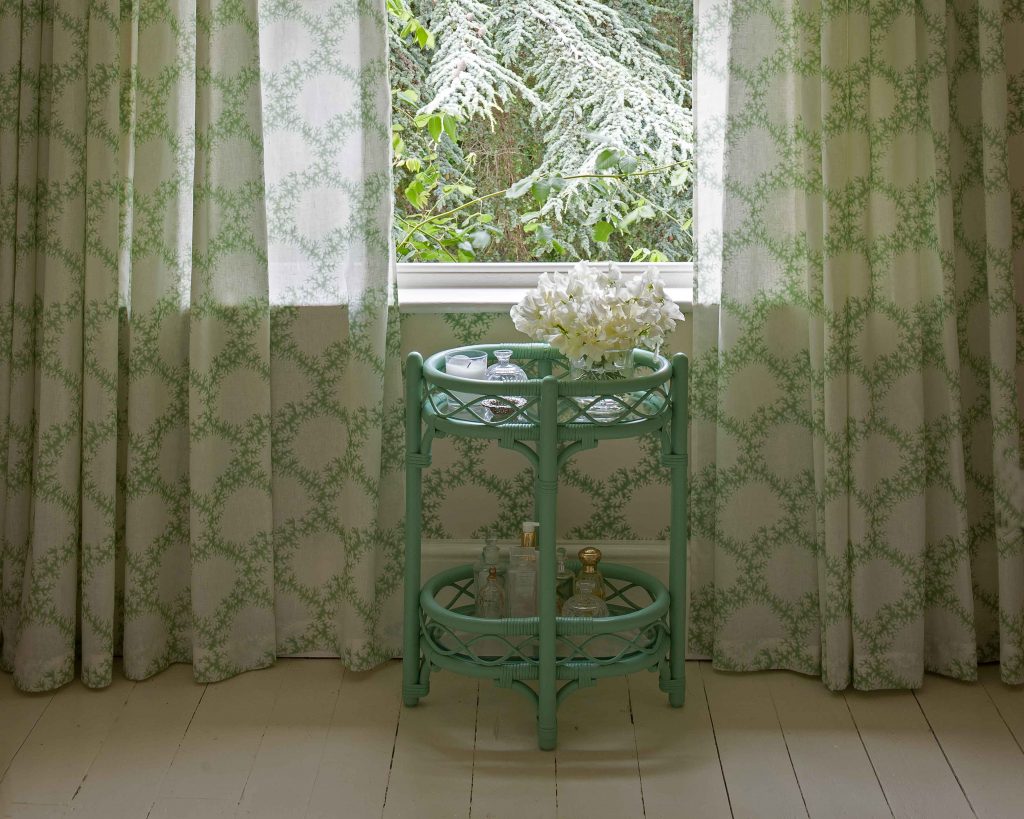 Soane Journal – Ferns and Fronds
Soane Journal – Ferns and Fronds
Soane Journal – Ferns and Fronds
Soane Journal – Ferns and Fronds
At Soane Britain, we delight in all things botanical and especially architectural plants with giant fleshy leaves and fabulous fronds. Since childhood, Lulu has been fascinated by palms, the inspiration for several lighting and fabric designs (see 'A Passion for Palm Trees'), as well as the planting of Soane's own little oasis – a verdant roof terrace with exotic species above the Pimlico Road shop. She similarly loves ferns with bold textural fronds, recently introducing this plant form to the Soane botanical print collection with the Scrolling Fern fabric and wallpaper collection.
The British have a fondness for ferns that in the 1800s reached such a peak that the term 'pteridomania' – fern fever – was coined by author Charles Kingsley. Capturing the spirit of the craze, he wrote,
"Your daughters, perhaps, have been seized with the prevailing 'Pteridomania '…wrangling over unpronounceable names of species (which seem different in each new fern-book that they buy)…and yet you cannot deny that they find enjoyment in it, and are more active, more cheerful, more self-forgetful over it, than they would have been over novels and gossip, crochet and Berlin-wool."
Glaucus, Charles Kingsley 1855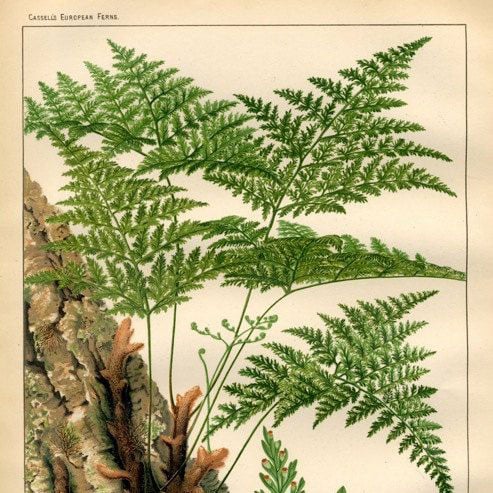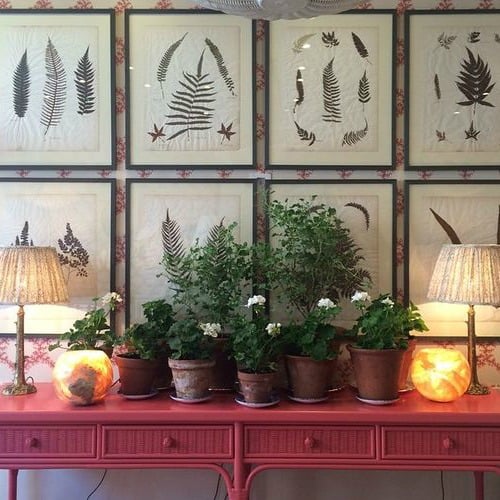 The colonies fuelled an interest in tropical flora, but ferns had the advantage of also being native plants, discoverable in remote parts of the British countryside made accessible by the Victorians' road and later rail systems. From professional botanists to amateur enthusiasts, men and – notably – womenfrom across all classes of society collected ferns, a plant form that had previously been little studied or recorded. Fronds were cut, pressed and placed in albums, labelled by reference to the 'Ferns of Great Britain and Ireland' identifier (the advancement of printing having made such books cheap and readily available). Some of these preserved ferns survive today and a recent display of antique pressed ferns in Soane's Pimlico Road showroom generated a remarkable wave of interest when posted on Instagram. Ferns, it seems, have a timeless appeal.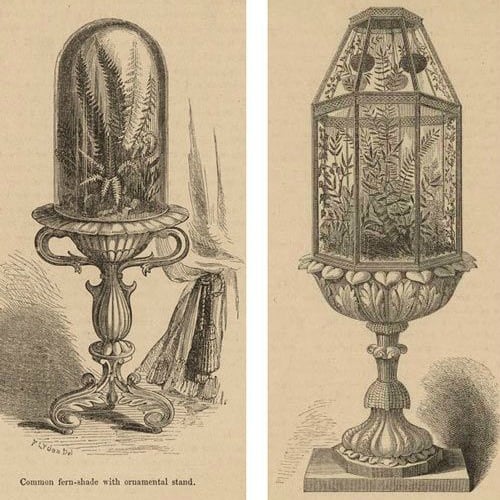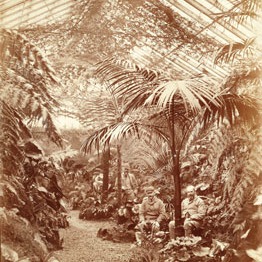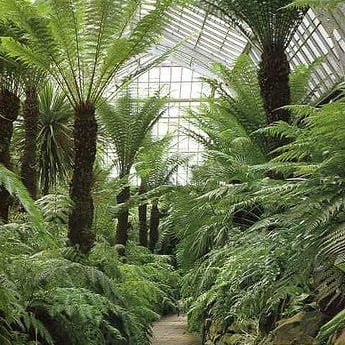 The Victorian fashion for collecting and cultivating live ferns fuelled the creation of botanical glasshouses, from small indoor cases to conservatory-style ferneries built at great houses across the country. Whimsical Wardian Cases, invented by London physician and botanist Nathanial Bagshaw Ward (1791-1868), were popular for the display of ferns at home. Apparently, the doctor kept moth cocoons in sealed glass bottles and had noticed a fern growing in a sample of soil in one such bottle. The fern continued to grow over four years until, when the seal broke, the fern died. Intrigued, Ward commissioned a carpenter to build a sealable glass case specifically for growing ferns – a model that was ultimately produced on a larger scale for the shipping of plants to and from the colonies. One of Britain's largest surviving fernery buildings can be seen at Tatton Park in Cheshire, today fully restored and open to the public. Built in 1850 by Joseph Paxton (architect and designer of Crystal Palace), the glasshouse was designed specifically to house tree ferns that the Egerton family brought back from a voyage to New Zealand. After fifty years, the roof of the fernery had to be raised to its current height to accommodate these towering tree ferns, some of which survive today.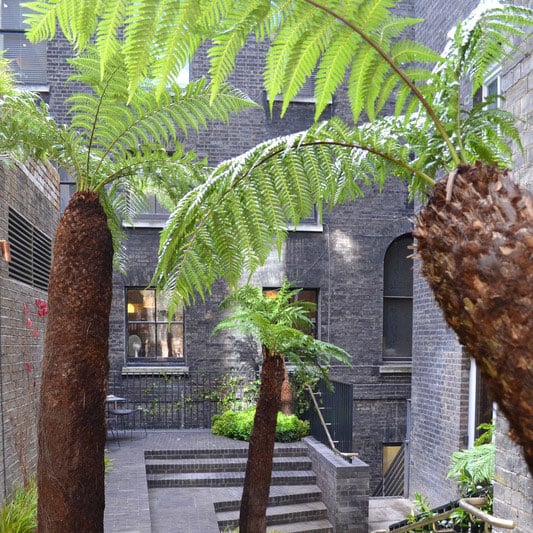 It's a joy to visit grand, historic ferneries, abundant with all manner of established species, but also to discover modern fern gardens in unexpected urban spaces. One of Lulu's favourite London retreats is the Keeper's House garden at the Royal Academy of Arts, where exotic tree ferns with hairy trunks and lush green fronds bring wonderful form, colour and atmosphere to a shady courtyard enclosed by tall brick buildings. Garden designer Tom Stuart-Smith explains how he likes the "ectopic" nature of the ferns, providing surprising views from windows in different parts of the Academy and how he purposefully chose bendy trees over straight ones for their delightful character.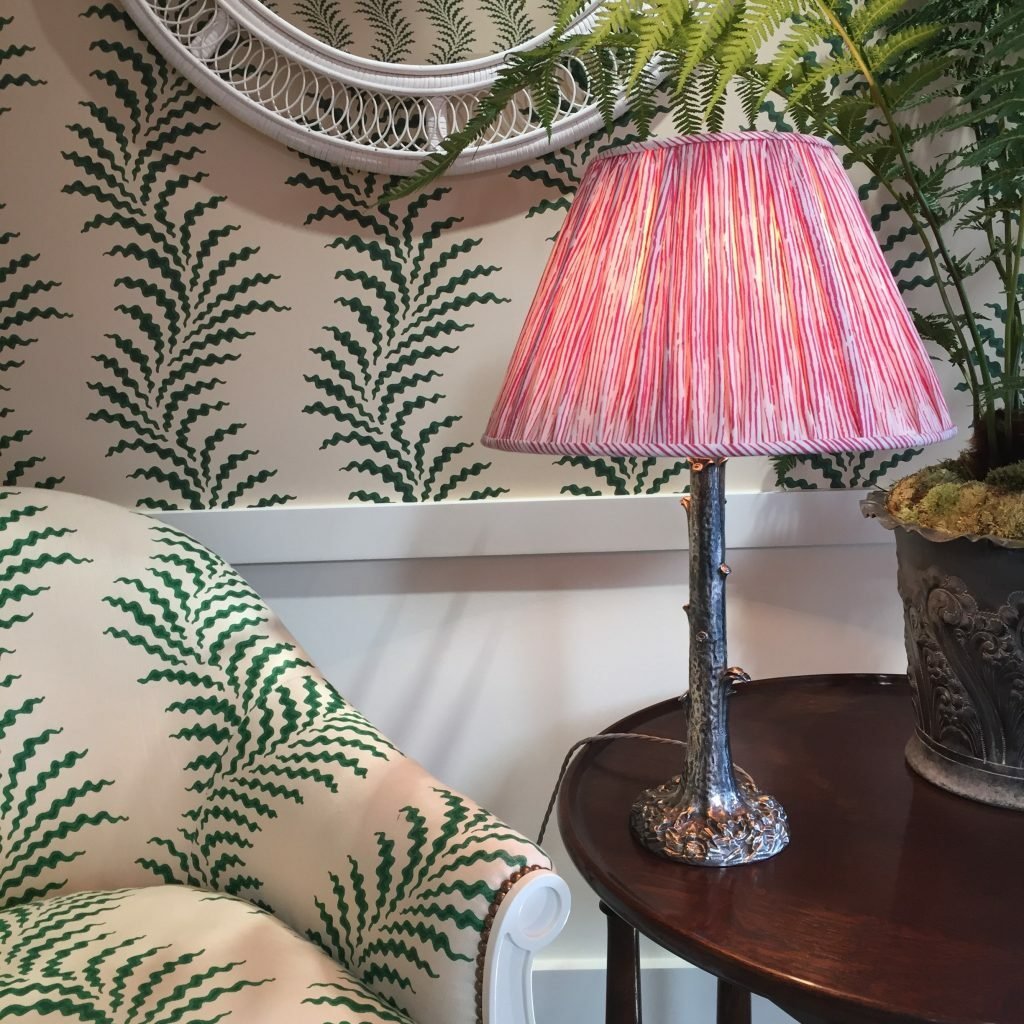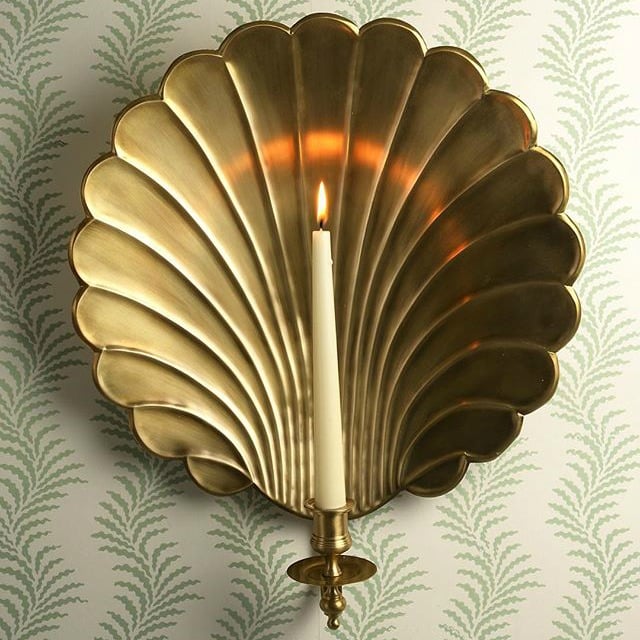 The leaf structure of the fern lends itself well to two-dimensional representation, as recognised by the Victorians who used fern motifs on a multitude of objects such as hand-painted china, engraved glassware and damask linens. Dried fronds were also used as stencils in splatter painting or inked to produce 'nature prints.' Soane's Scrolling Fern print is a scaled-up interpretation of a tiny fern motif Lulu found in an 1820s French pattern book. Hand-printed in specialist workshops – the design is silk screen printed on linen and block printed on wallpaper – Scrolling Fern Frond has a slightly imperfect look that adds to its great charm. Scrolling Fern Silhouette offers a smaller scale version of the same design. More sea-like fronds appear in the Seaweed Lace and Coral collections, both of which were inspired by motifs found in the same 1820s pattern book. A wonderful antique resource for Soane's botanical collections!
Below, a selection of Soane's ferns and frond prints in colours drawn from the Soane palette – greens, yellows, blues, pinks and browns.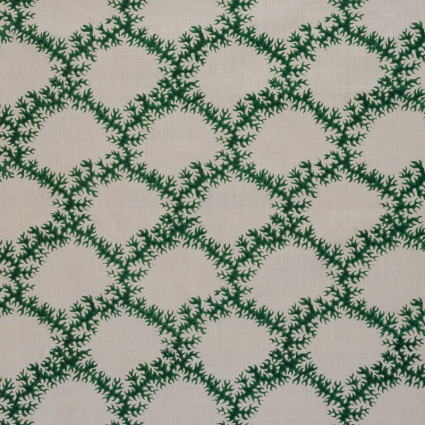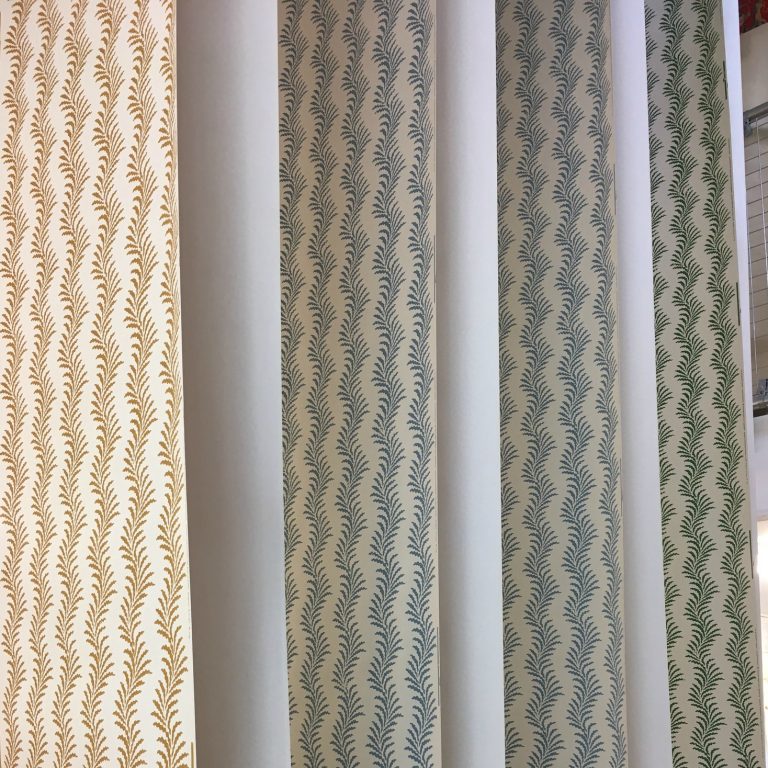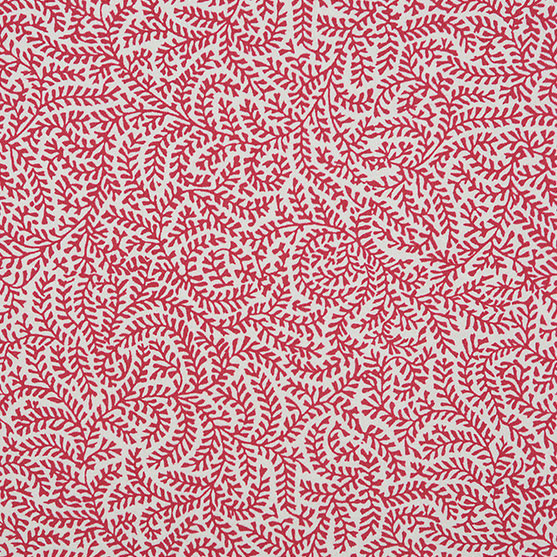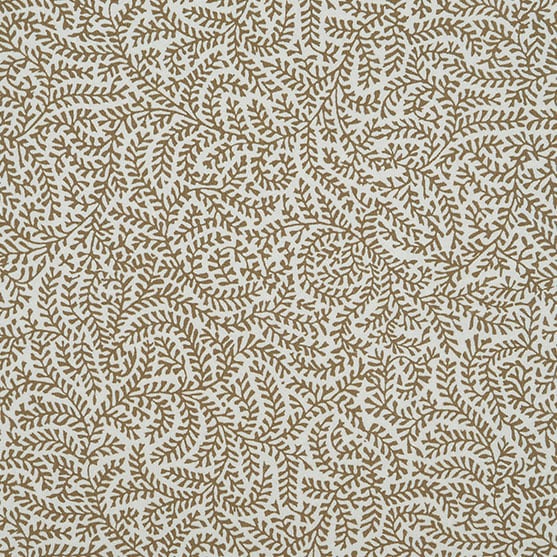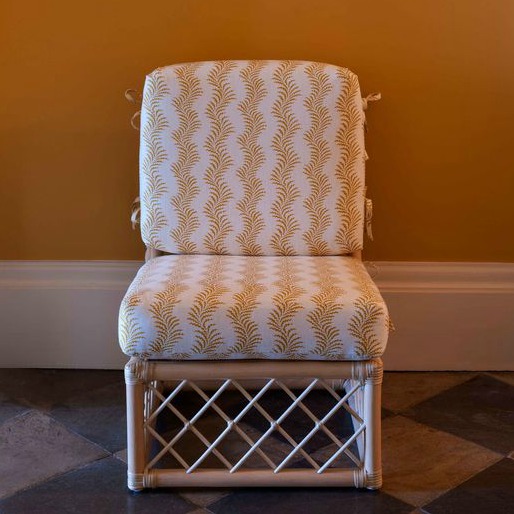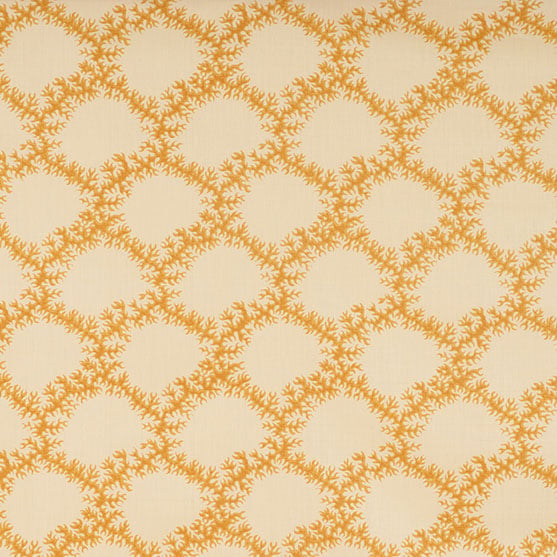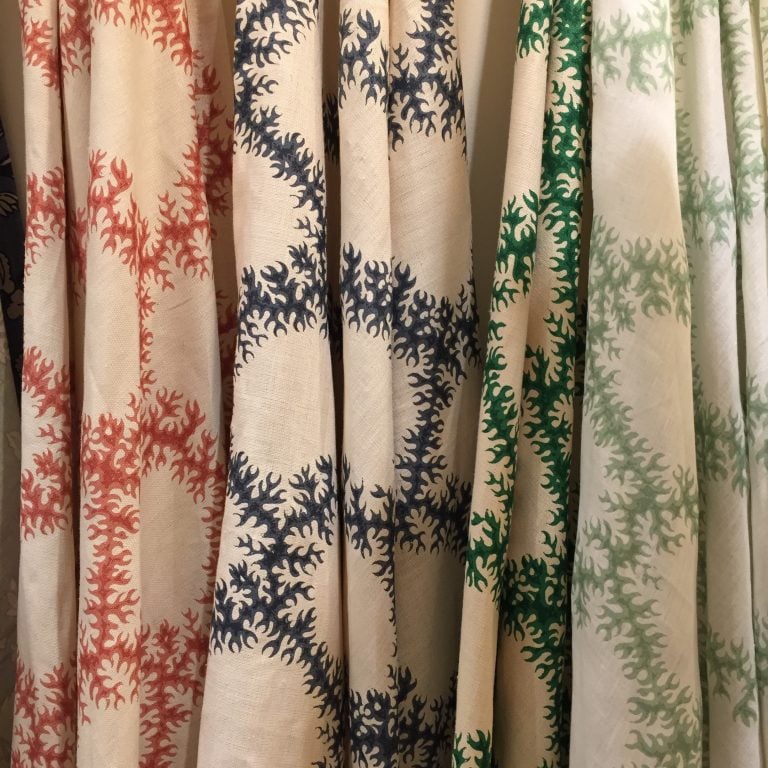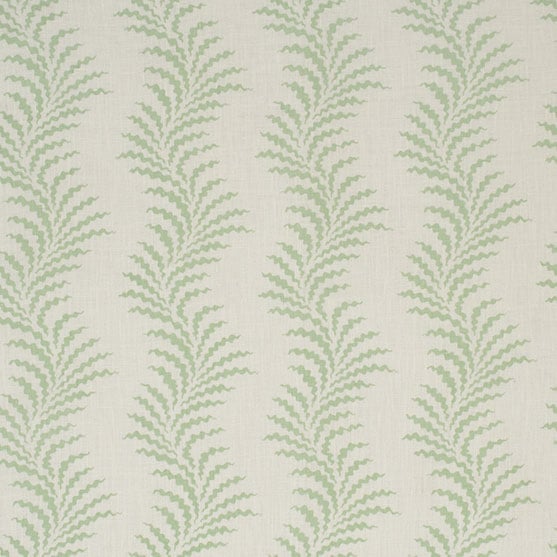 See Soane Britain's Pinterest board, 'Ferns and Fronds' here.
To read about print craftsmanship, see the Soane Journal post, 'Hand Printed Fabrics' here.
Top gallery: Lulu's antique pressed ferns; The fernery at Tatton Park, photograph copyright Sarah Barker at flickr.com; Scrolling Fern Frond Wallpaper and Fabric in the Soane Britain showroom window; Seaweed Lace wallpaper and fabric with The Lacy Stand, all by Soane Britain.