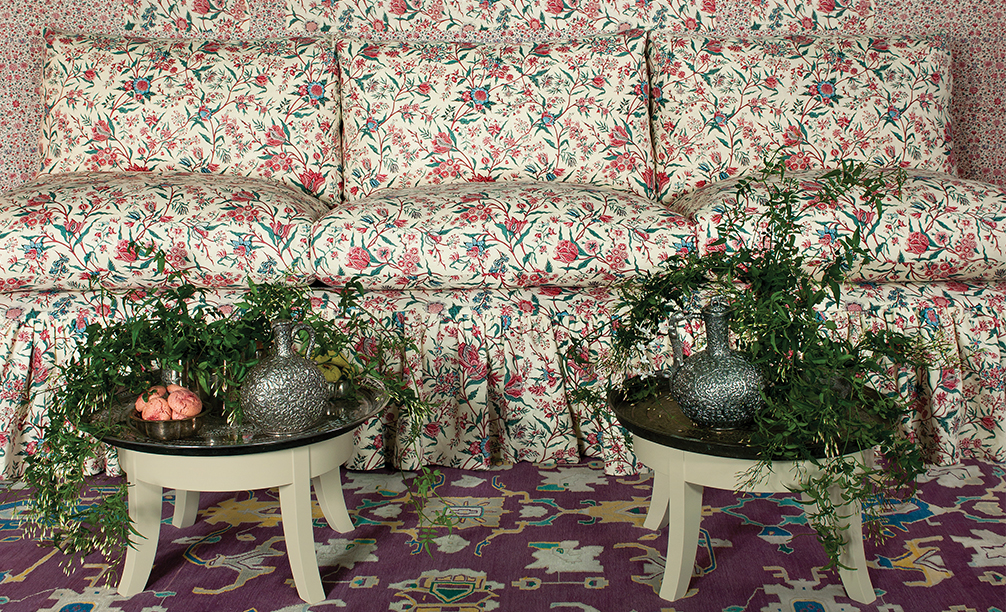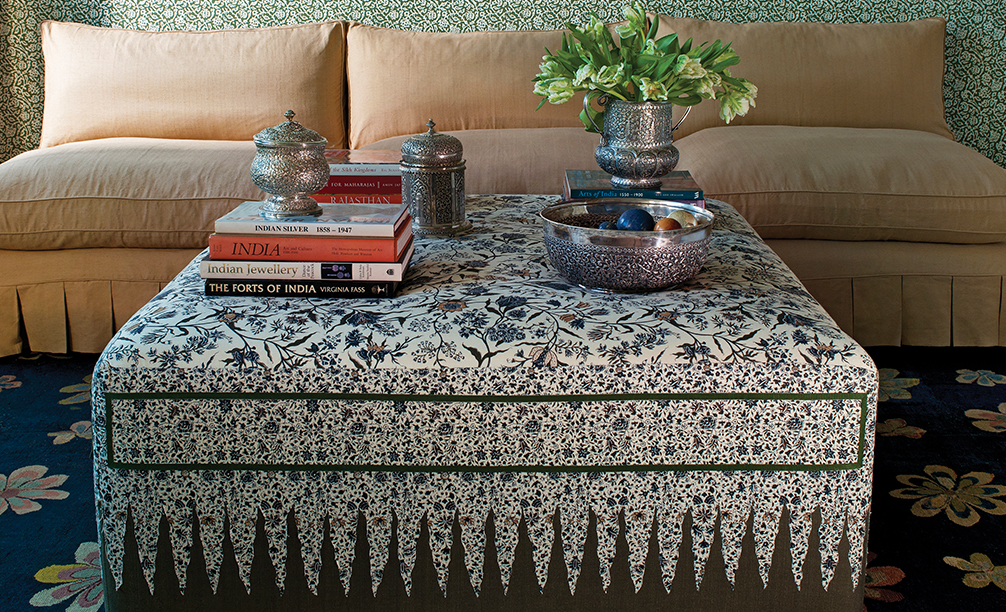 2-Coromandel-Jamine-and-Frangipani-Original-1006×612-1
3-Arabesque-Musk-1006×612-1-300×183
4-Coromandel-Jamine-and-Frangipani-Walnut-and-Neel-1006×612-1
Soane Britain are thrilled to have collaborated with Karun Thakar, a world-renowned textile collector, on a new fabric and wallpaper collection. Textiles owned by Thakar have already informed some of Soane's best-loved patterns, including 'Dianthus Chintz', 'Tulips & Butterflies' and 'Indian Parrots'. As a new exhibition at The George Washington University Museum and The Textile Museum prepares to feature many of Karun's most beautiful pieces, he has collaborated with Soane on four new designs.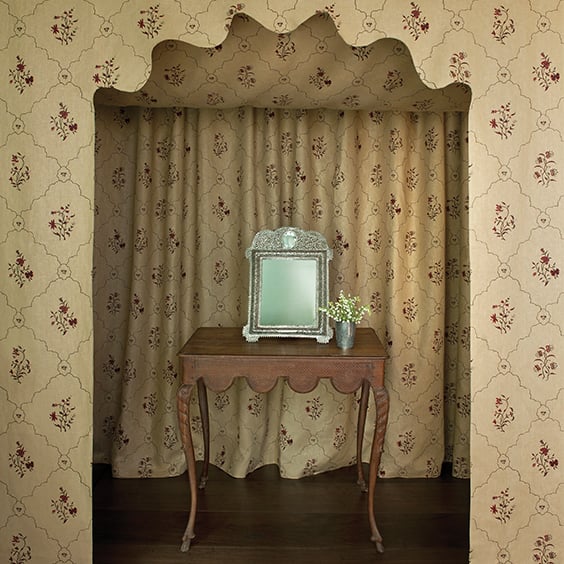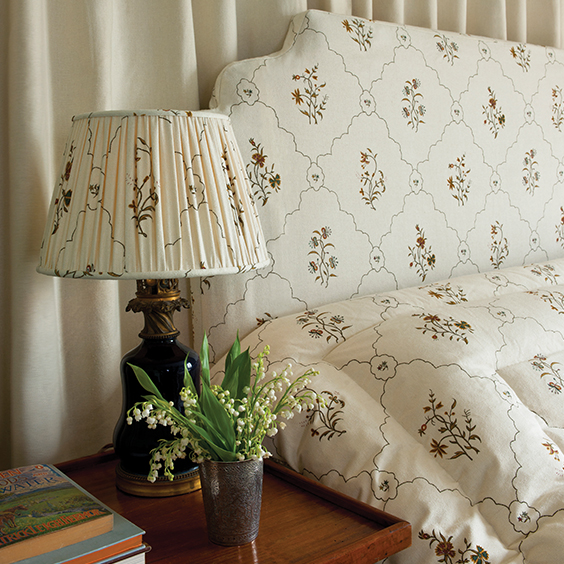 Karun has been collecting antique textiles for most of his life. Growing up watching his mother run a couture shop, he learned to sew, embroider, knit and crochet from her, and began his collection in earnest upon leaving university in the early 1980s. Asian and African textiles are the object of his deepest interest, from 14th-century Indian trade cloths to narrow loom weavings from West Africa. He is not only a collector but an educator, writing books to share his love of the subject and allowing his textiles to form the basis of exhibitions.
The collection comprises three printed fabrics – 'Coromandel Tulip', 'Jasmine & Frangipani', and 'Floral Lattice' – and one wallpaper, 'Arabesque', each in a variety of colourways. Every design is based on a different 18th-century Indian textile from Thakar's collection. This was a period when fabrics made in India were being exported all over the world, employing a wide range of techniques and catering to a huge range of tastes, from elaborate chintzes to simple, cheerful ginghams.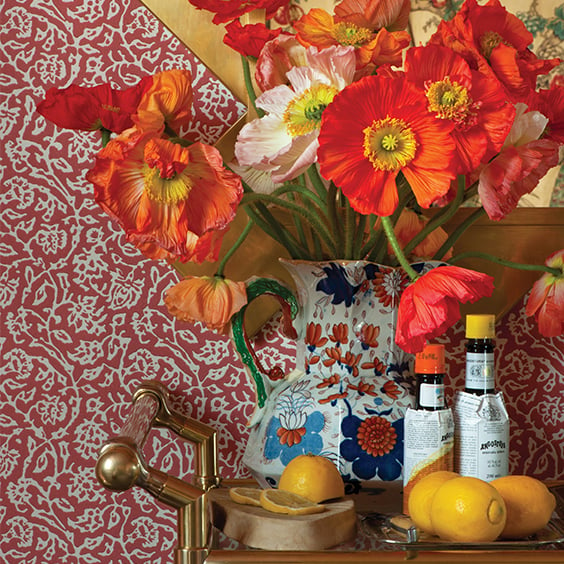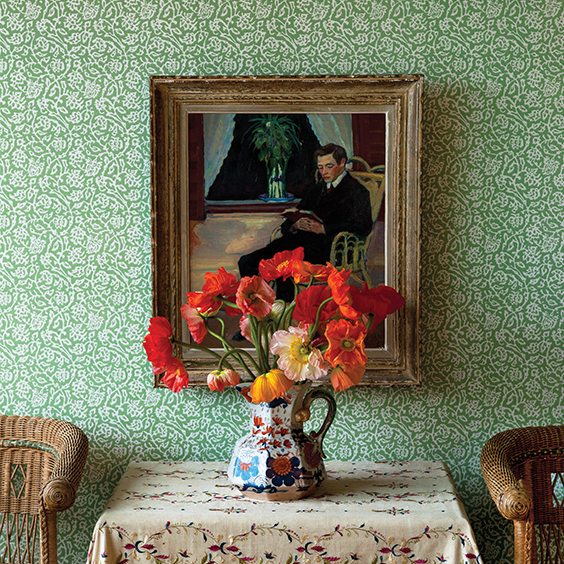 The collaboration emerges from a long friendship between Karun and Soane Founder Lulu Lytle. "I have known Lulu for twenty years," says Karun, "and it has been wonderful to see the evolution of her designs. When Soane used my 17th-century embroideries from Ashburnham Place to create 'Indian Parrots', they did justice to the originals and managed to evoke their spirit. It is also imperative to me that, wherever goods are produced, the workers have their needs met, and Lulu shares that ethos."
"I've learned so much about textiles from Karun," says Lulu. "He has always been extremely generous with his knowledge, enabling me to study first hand both textiles in his own, and in public collections. We have a shared love of early trade cloths, with their individuality, their extraordinary colours derived from natural pigments, and the quality and beauty of the draughtsmanship. They are seemingly very free and fluid patterns that look as if they might dance off the cloth, but they have a subtle, underlying rhythm that is very grounding."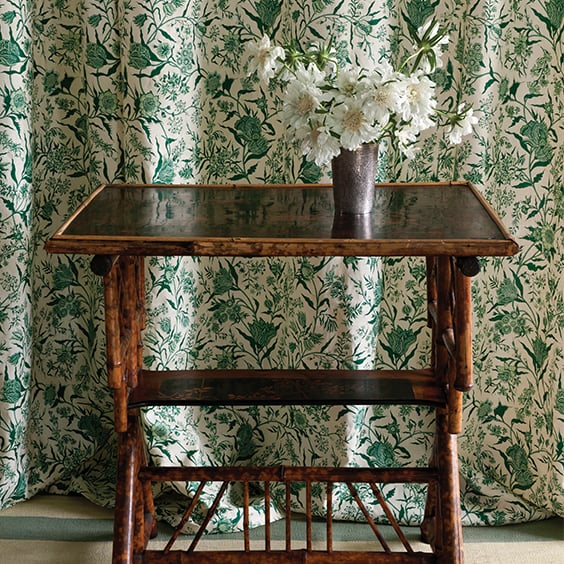 As a way of thanking Thakar for his generosity in sharing his collection, Soane is helping establish The Karun Thakar Fund to enable students of Indian and African textile design from around the world to broaden their research and practice. Funded by Soane and by anonymous donors, the fund will take on its first students in the autumn of 2021 to coincide with the launch of the collection, and will provide assistance with academic research and support in developing the future of textile design through events and conferences. Run by the V&A, the selection committee will include Lulu Lytle, Karun himself, and museum curators from the UK and the USA.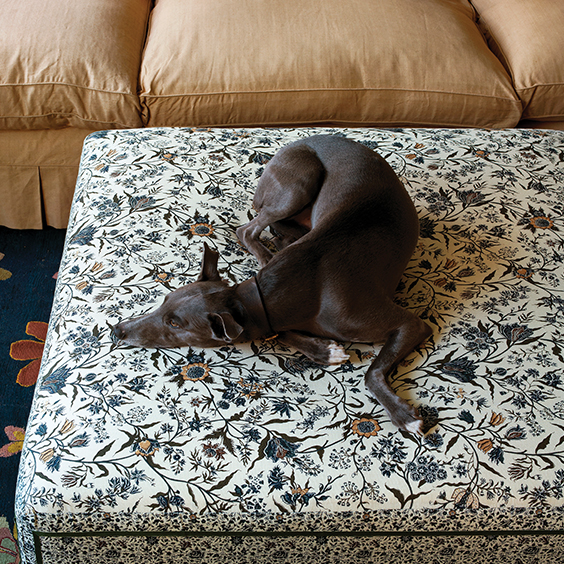 From second gallery left to right: Karun Thakar – Floral Lattice – Madder and Macadamia; Karun Thakar – Floral Lattice – Ocherous; Karun Thakar – Arabesque Wallpaper – Musk; Karun Thakar – Arabesque Wallpaper – Hart Green; Karun Thakar – Coromandel Tulip – Original; Karun Thakar – Coromandel Tulip – Emerald; Karun Thakar – Coromandel Tulip – Walnut and Neel
View our 'Karun Thakar for Soane Britain' Pinterest board