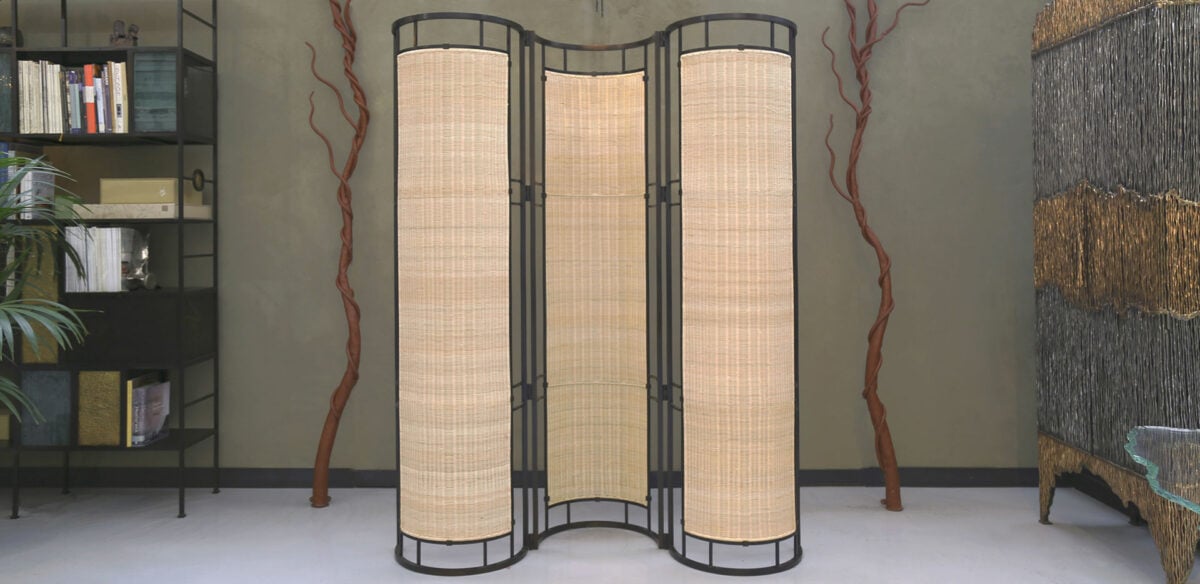 The Emperor Screen is the latest creation by designer-makers Nicola and Christopher Cox of Cox London and made in collaboration with Soane Britain. It celebrates a tradition of making and preserves skills and rare artisan techniques in this country.
Real craftsmanship underpins each company. This collaboration grew from a commission to create a unique piece for the 'Collectors Interiors' as a partnership with Collect 2019 and The Crafts Council.
Christopher Cox comments: 'This is the first collaboration with another like-minded studio. Partnering with Lulu Lytle of Soane Britain was a great opportunity to marry materials with our iron work that we wouldn't ordinarily work with. To upholster our metalwork frame with a gauze of rattan was particularly appealing for several reasons. There are few materials we could weave into a curve in this way and the aesthetic of the rattan softens and compliments our hard and linear iron work frame. It's also great to play a small part in Lulu's mission to revitalize and sustain a wonderful British making tradition that without Soane's commitment could easily disappear altogether.'
Viewed as a whole the Emperor is a powerful piece defined by its curvaceous iron frame. The effect, however is not harsh, with the inner woven rattan giving natural warmth and texture.
The curving forged iron frame was designed and drawn on paper first. Then the iron work was forged and fabricated using, heat, rollers, jigs and welding processes in the London workshop and foundry. It had to be absolutely precise and robust to work and the proportions exact to look its best. Once the main frame was complete a sub frame was built for each of the rattan panels to be woven onto and sent to Soane Britain's rattan workshops in Leicestershire. The first of the rattan panels fitted perfectly so with the second and third followed.
Lulu Lytle, co-founder of Soane Britain comments: 'I have always admired Cox's commitment to craftsmanship and their beautiful work. Rattan and forged iron sit very comfortably together, particularly here where the visual strength of the iron is balanced by the translucent curves of the rattan.'
Emperor screen
Dimensions: 1532mm w x 2000mm h x 450mm d
Finish: Bronzed iron and natural rattan
The screen can be made with more panels, in other finishes and different coloured rattan.