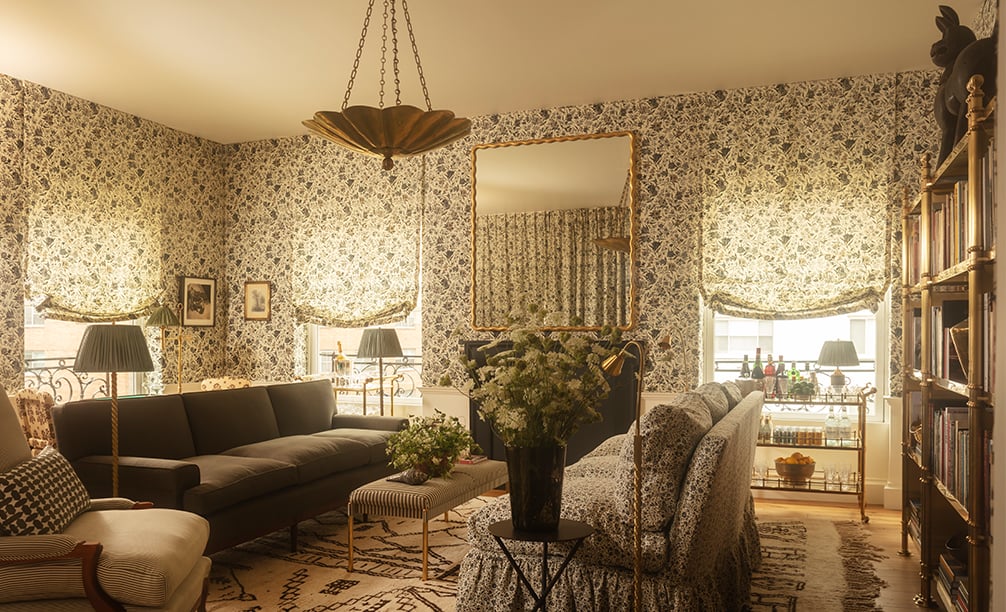 In keeping with its Pimlico Road showroom, Soane's newly opened gallery on Madison Avenue is arranged as a series of rooms to demonstrate the skills of some of the very best makers in Britain. Despite being built nearly 150 years later than its London counterpart, the New York showroom appears to have been home to a greater variety of retailers including couturiers, florists, contemporary Japanese art dealers and knitwear designers. Most notably society hairdresser Monsieur Marc opened a salon here in 1960, his devoted followers including Babe Paley, Nancy Reagan and Betsy Bloomingdale.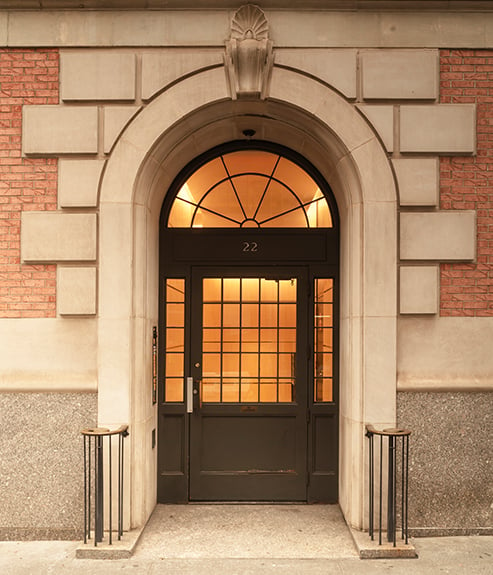 The neo-Georgian corner building was designed for the Betts family by the great architect Grosvenor Atterbury in 1897, about whom Peter Pennoyer has written an excellent book. The 65th Street entrance is understated, with an elevator taking you to the amber warmth of Soane's 4th floor private lobby.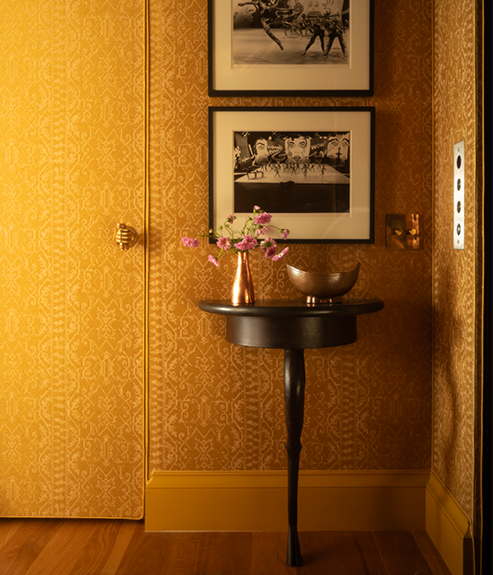 This enveloping entrance has walls upholstered in Woven Symi, a heavily textured weave which is every bit as luminous as the antique Greek embroidery it faithfully replicates, and a high gloss yellow ceiling reflects the dappled glow of Soane's distinctive Owl Flush Ceiling Light. Throughout the space Soane's own designs are mixed with antiques collected by Soane's founder Lulu Lytle, to ensure a feeling of a timeless, lived-in apartment rather than a sterile showroom. 1970's black and white photographs of the Paris Opera Ballet hang above a forged iron stag's leg bracket, made by Mark Lumley, the blacksmith with whom Soane has collaborated for over 25 years. This taut monopode carries a 19th century Ottoman bowl and an Arts and Crafts copper vase.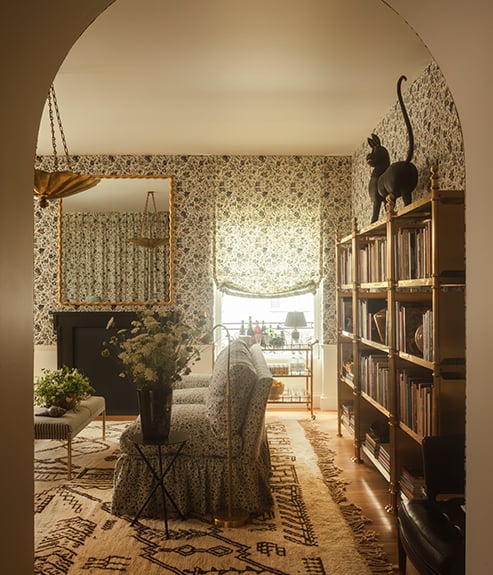 Glimpsed through an archway is an elegant window-lined drawing room revealing views down both Madison Avenue and 65th Street. Coromandel Tulip upholsters the walls, a design taken from an exceptional botanical chintz sarong in the collection of the renowned textile collector Karun Thakar. Re-coloured here in deep browns and blues, the room feels handsome rather than pretty, with the light diffused by unlined blinds made from the same fabric.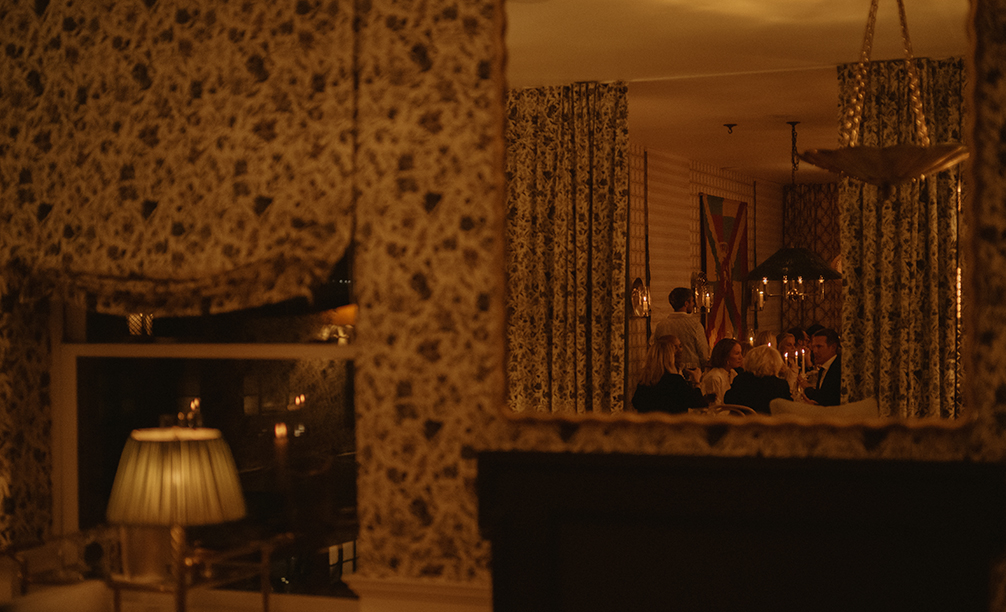 A restrained 18th century Welsh slate chimneypiece grounds the room and is flanked by generously scaled and deeply comfortable sofas. The soft glow of a brass Scallop Hanging Light is reflected in the carved Wave Mirror and is especially atmospheric at night when candles are lit.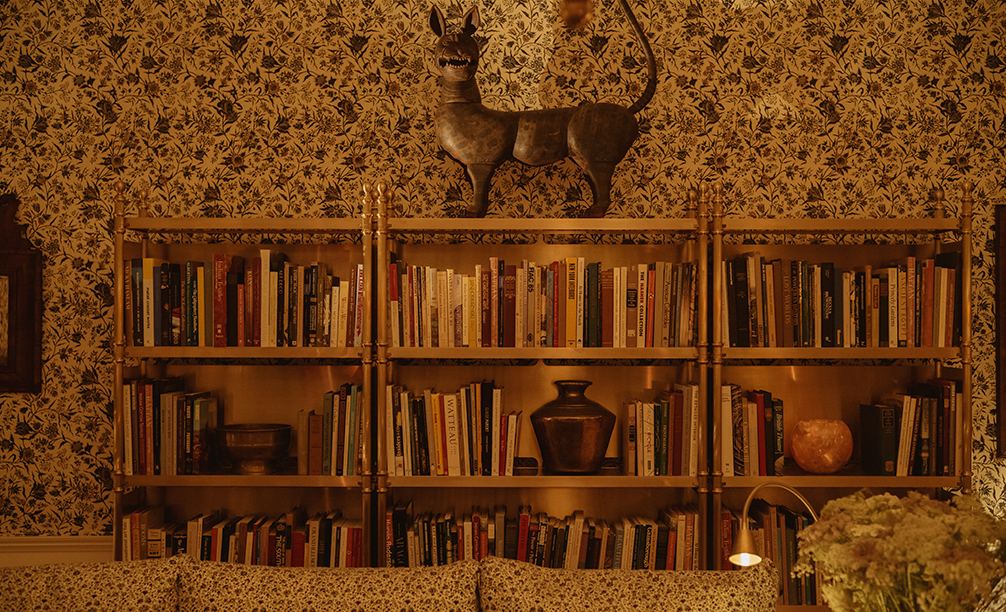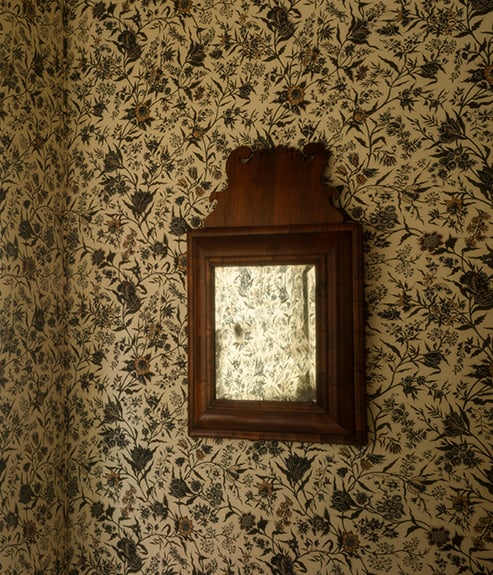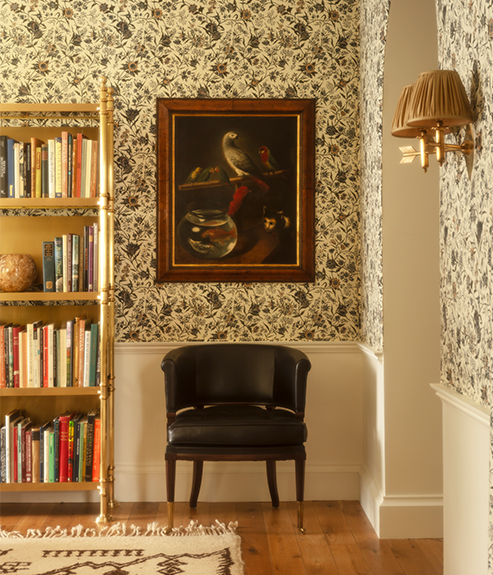 Soane's modular Étagères house a changing collection of objects and books and are framed by, on one side a William and Mary walnut mirror and on the other side a late 18th century continental Oil on canvas of parrots and a cat mesmerized by a bowl of glistening goldfish. All of this is surveyed by a startled looking wooden Jaguar carved in the 19th century in India.
Yet more cats join the 4th floor zoological cast with a Korean leopard, painted on silk in the 19th century, gazing down on a Bascule Desk and the sculptural Eldon Chair.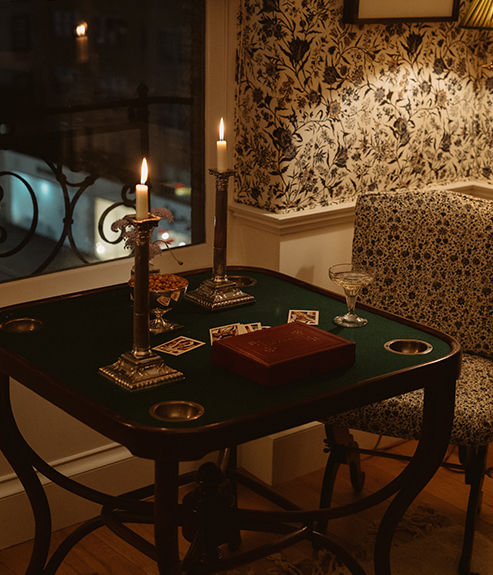 Against a backdrop of a superb 1960's Outsider ink drawing of a boxing match and a fine early English drawing of a tree sits a rare Thonet bentwood card table.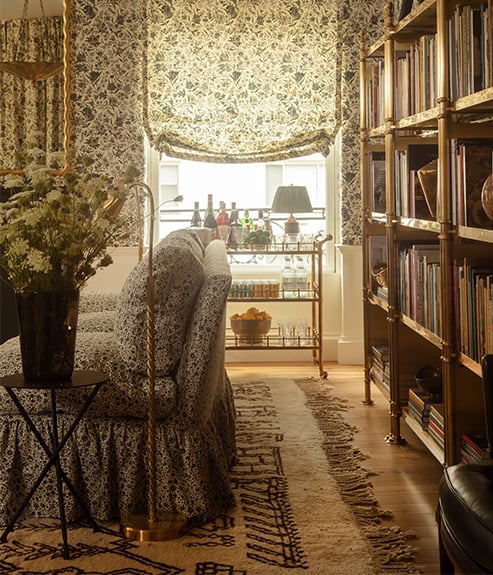 Guests are guaranteed a proper drink at any time of day, from one of two lavishly stocked Nureyev Trolleys, sparkling with vintage glass and silver, and a full array of spirits which sit only an arms reach away from both sofas.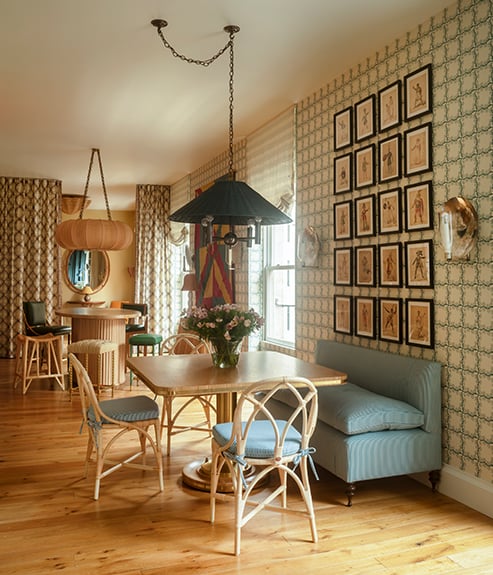 As you move into the kitchen/dining room, the atmosphere lightens with pale oaks, clean blues and ivory. In here classic botanical patterns, for which Soane is best known, are all inspired by 19th century floral motifs in its textile archive.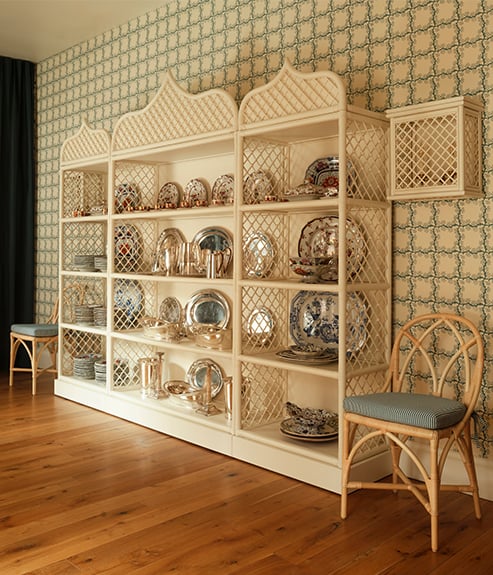 A large rattan bookcase has been made especially to display a flamboyant 19th century Masons Ironstone dinner service which is already in regular use for small breakfasts and lunches.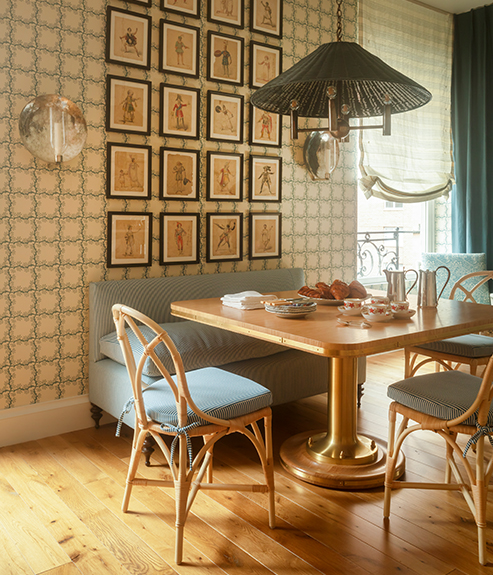 For these moments a Yacht Dining Table is laid against a wall of strictly hung 19th century watercolours of London theatre actors in elaborately detailed costumes. Soane's dining banquette, copied from an original designed by Cecil Beaton for his London House, is paired with rattan Whalebone Dining Chairs and illuminated by both a rattan Bouillotte Hanging Light, designed in collaboration with David Netto, and Aten Hurricane Wall Lights, to create a laid-back breakfast room.
At night the extended space sees this seating arrangement swapped for long trestle tables and tablecloths for glamorous candlelit dinners for up to 30 guests, with every element having been sourced from brilliant antiques dealers in both London's Portobello Market and Bloomsbury.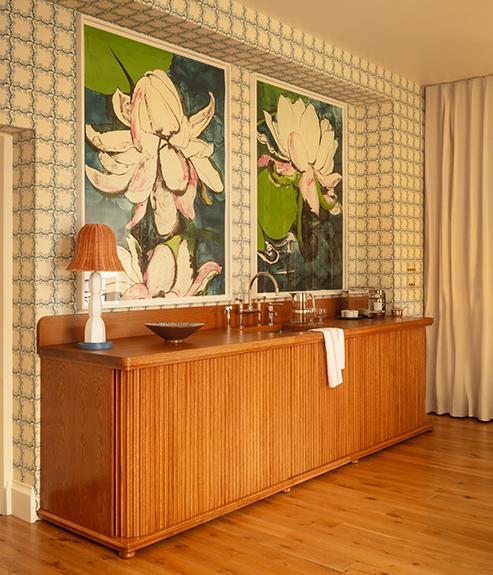 The kitchen has been fitted with bespoke Tambour Cabinets – "a long-held, rather extravagant dream," admits Lulu Lytle. Rarely seen in contemporary furniture, the tambour is ingenious. Made using a particularly challenging cabinetry technique, first described by Thomas Sheraton in 1803, the tambour moves with smooth precision, gliding fluidly along a curved groove to conceal contents with immense practicality. The necessary skills to make this kitchen have been perfected over the course of a twenty five year collaboration between Soane and its Suffolk workshop. Two boldly scaled and vibrant lithographs from artist Sarah Graham are a serendipitous fit for the large space above.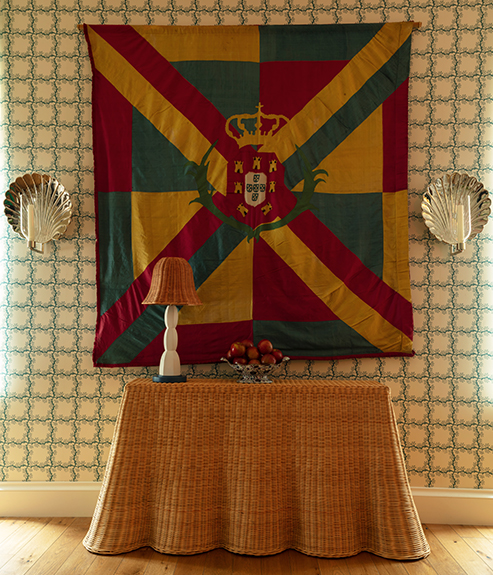 Contrasting in scale and atmosphere the opposing wall shows Soane's Rattan Ripple Console, a much loved design in their collection for over 15 years, with a dazzling Portuguese silk armorial flag.
Concealed within another bespoke Tambour Cabinet is a selection of lighting designs, all made by craftsmen in Soane's own Leicestershire lighting workshop. Here an innovative approach of nurturing established craft skills whilst embracing the latest technology is exemplified, pairing precision engineering with traditional patination techniques.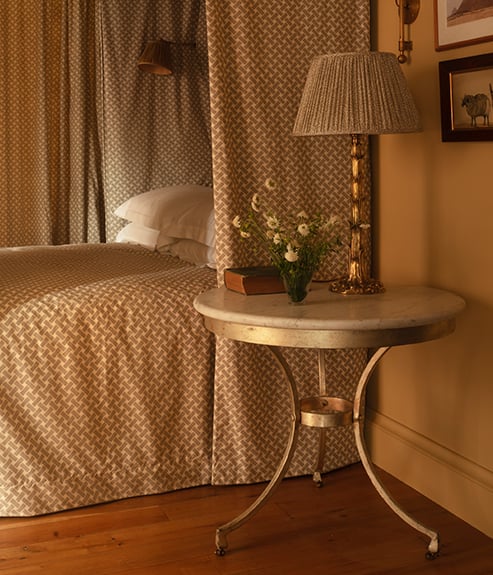 Curtains conceal a bedroom where the brass elements of a formal four poster bed are softened by bed hangings made from a small-scale geometric pattern from Soane's collaboration with the London-based interior decorator and antiques dealer Adam Bray.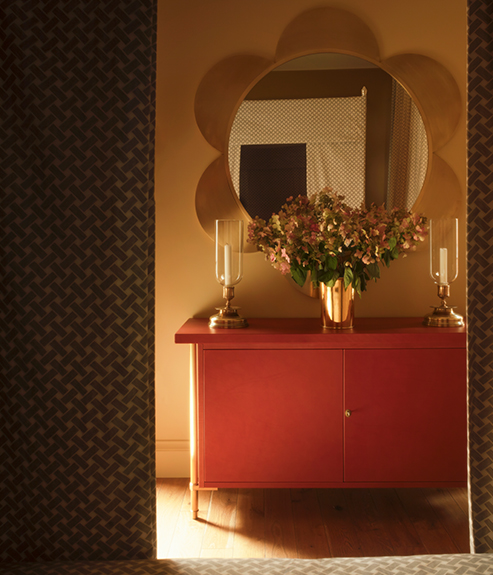 Opposite is a leather wrapped Rivoli Cabinet and a Daisy Mirror reflecting the bed and its artworks. Above the bed, casting gently diffused shadows, is one of Lulu Lytle's first ever rattan lighting designs, the Daisy Hanging Light.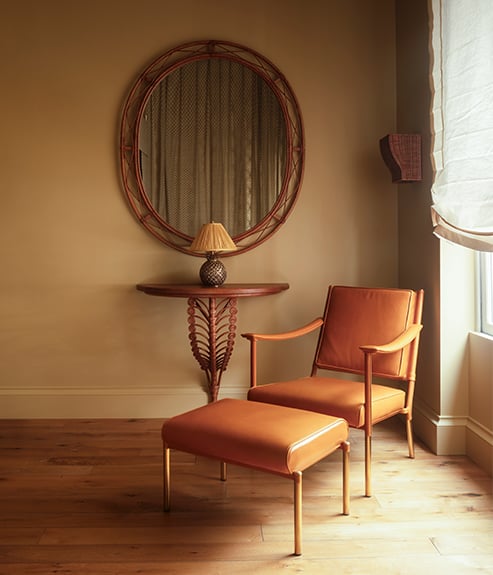 A Crillon Chair and Footstool, besides a rattan Fern Console, is the best spot from which to sit and watch the new Armani Residences emerging from the ground on 65th Street!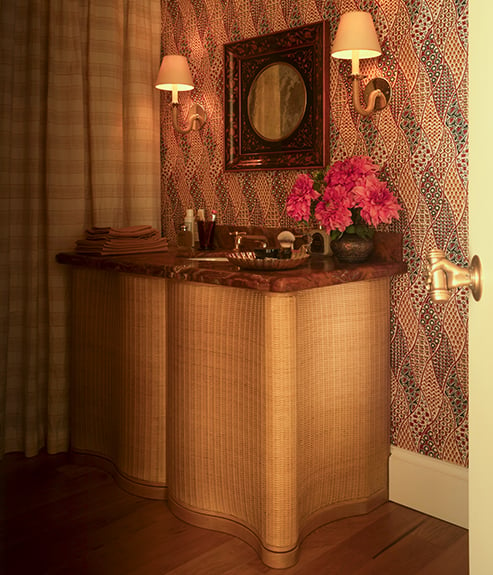 The en-suite bathroom is lined with a richly coloured fabric from the Adam Bray collection, an enlivening backdrop for a fiendishly exacting piece of curvaceous cabinetry. A rattan wrapped Kymo Cabinet is a great example of Soane's bespoke capabilities, adapted for use here as a glamorous washstand. The Italian marquetry mirror with its heavily foxed mercury glass, creates moody reflections.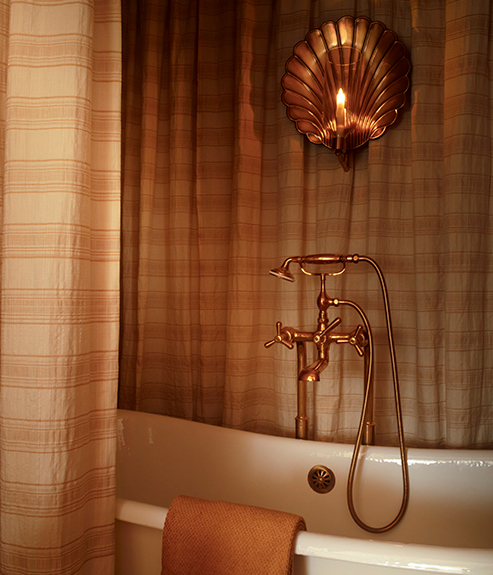 The bath is cocooned in curtains made from the romantically diaphanous Papyrus Stripe.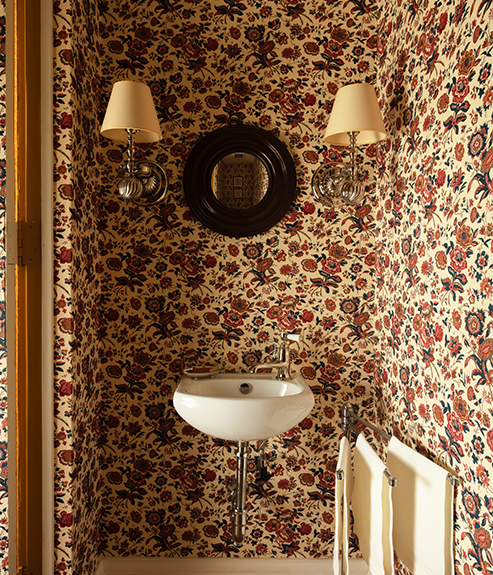 The most diminutive room is the guest loo at the entrance to the fourth floor. Walls are covered in an exuberant paper backed fabric, Mazzolino, on which a mahogany convex mirror makes it especially interesting to apply your lipstick, despite the flattering illumination of a pair of Ocean Wall Lights!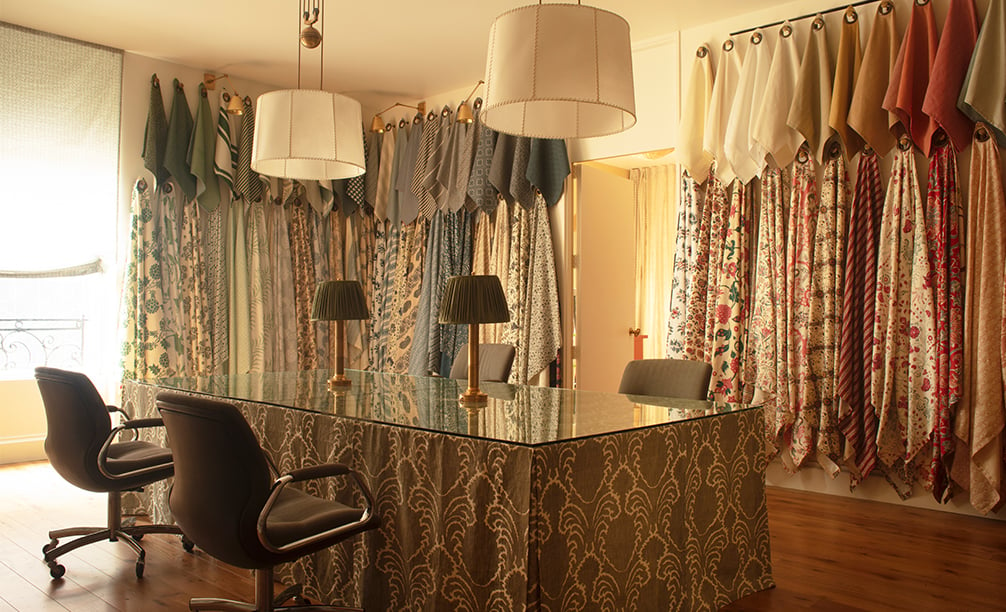 The immersive fabric and wallpaper room has been designed as a private, creative space for clients to familiarise themselves with the collection and discuss projects which might draw on the skills of both Soane's own workshops, as well as its network of around 40 independent craft workshops across Britain.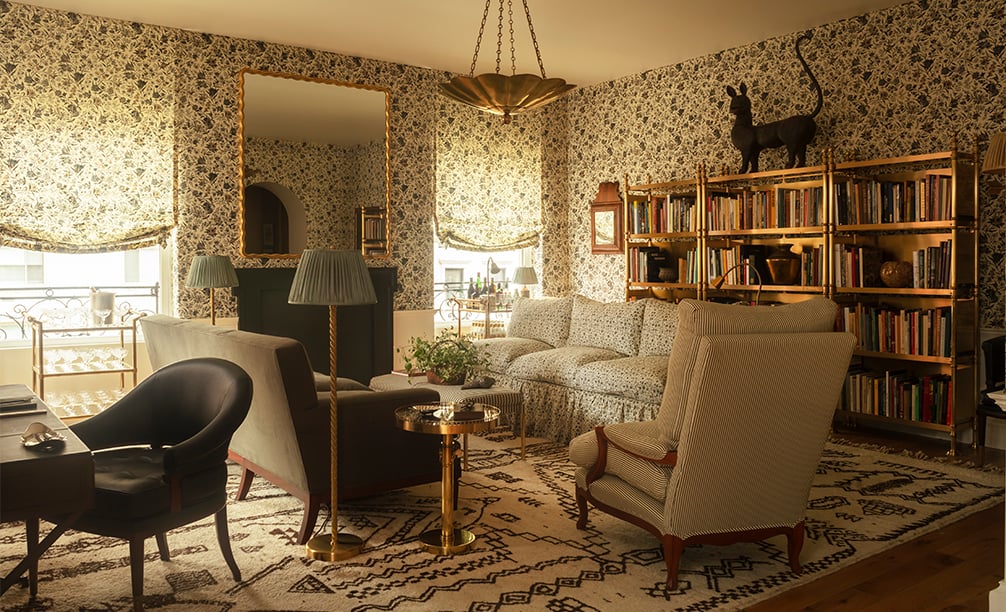 To the best of our knowledge we are the very first interiors occupants in the 123 year history of this elegant building and so look forward to welcoming you.